So, I will admit to a bit of bias about this game. I love tea. Black tea, white tea, red tea…not really green tea, but we get by. Anyway, I'm a fan. So when a board game themed around tea comes around, I'm obviously going to be interested. I missed the first round of the original Chai game from Dan and Connie Kazmaier, the lovely folks behind Steeped Games, but they were kind enough to send over their newest game in that same vein, Chai: Tea For Two so I could give a little preview of it while it's on Kickstarter! So brew up a nice cup and take a look inside this cute little game!
What's In The Box?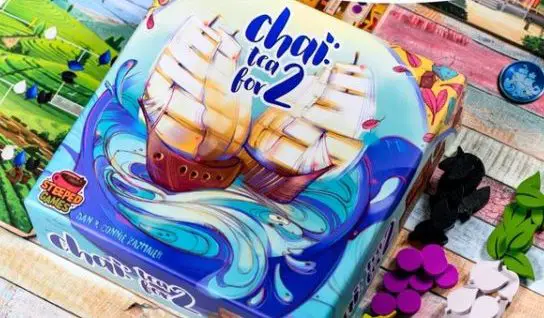 This game is that perfect balance of cute and beautiful that I'm an absolute sucker for. There's a lovely softness to all of the art that's kind of impressionistic and dreamlike. It's definitely on the more relaxed end of games, even if it's competitive. The player boards are super nice and pop well on the table. The best part? CUSTOM TEA MEEPLES! Yeah I'm a sucker for wooden pieces and, in addition to the meeples, there are wooden tea leaves that correspond to the different kinds of tea you grow and trade during the game. While this was a preview copy, It's pretty close to the final version and I am in love with the look and feel of the game from the jump.
How's It Play?
The game casts players as rival tea merchants having to, essentially, manage every part of their supply chain. You'll grow different kinds of tea at your plantation (green, white, yellow, black, and pue'er), each one affecting your production and profit margins. The two main parts of the game each center around a different mechanic, creating a unique blend of styles that is…pretty appropriate for a tea-themed game when you think about it. When managing your plantation and production, it's a dice placement game, moving your workers around and managing powers to optimize the tea you're trying to sell. You only have so many place you can place your workers, so you have to make it count. When managing your tea clipper, it's all about building your engine and messing with your opponent. At the end of the day, you get points for fulfilled ships and the plantation cards in your possession.
The Verdict?
Chai: Tea For Two is a great little game for anyone who enjoys a nice cuppa (or glass of sweet tea, which they've added in after some protest by southerners). It's educational in a very fun way and is a great way to engage with your favorite drink in a new way. Plus, it's just plain fun. Lots of interesting power combinations and player interaction means it's more than just a beautiful game to look at, and there's plenty of replay value baked into one little box. If you're looking for something fun, unique, and flavorful to add to your collection then you should definitely give Chai: Tea For Two a try.
You can still back Chai: Tea For Two on Kickstarter, which runs through June 4th.
Images and Preview Copy via Steeped Games
Have strong thoughts about this piece you need to share? Or maybe there's something else on your mind you're wanting to talk about with fellow Fandomentals? Head on over to our Community server to join in the conversation!