I'm back again with another Cat's Kickstarter Corner. This time around I am focusing on Kickstarters that are almost over, with the intent of saving underfunded campaigns or making sure you don't miss out on cool stuff. This is something you can always expect from the second Corner of the month. Hopefully those of these that still need funding can meet their goals. And speaking of goals, one of the unfunded projects from last time has been funded! Now that we've had our good news, let's get into my choices this time.
Board Games
Hard West — The Board Game by Silver Lynx Games
https://www.kickstarter.com/projects/silverlynxgames/hard-west-the-board-game
Goal: $102,143
Current Percentage: 43%
Days Remaining: 5
This is a supernatural, Wild West, scenario-based board game with two factions: occultists and pioneers. Originally a PC and console game, Hard West brings some unique additions to the board game world. The player dashboards and the way they connect with their weapons is streamlined and elegant. You have to play poker to figure out who goes first. There's even a soundtrack. Even though the game is not yet funded, secret stretch goals have been unlocked. Plus, the Kickstarter version comes with three exclusive characters, bringing the total of character options to seventeen.
Waters Edge by Catherine Redgate
https://www.kickstarter.com/projects/catherineredgate/waters-edge
Next Stretch Goal: $6,367
Current Percentage: 97%
Days Remaining: 6
Waters Edge was created by Catherine Redgate, a Scottish artist who did all the art for her game. This peaceful looking game is actually as deep as the sea itself. Players will spend a week in Waters Edge, where they will fish, sell or store those fish, and build up the town. Each day consists of six actions: four in the day and two at night. The time of day matters depending on your action, so planning ahead is a must. As an artist, the different Kickstarter options offer more than just gameplay bonuses. While all Kickstarter games will come with three extra cards, you can also pledge more to receive merchandise from the creator such as pins or a mug (pictured above with the game).
Tabletop RPG
Quietus: A Roleplaying Game of Melancholy Horror by Sinister Beard Games
https://www.kickstarter.com/projects/sinisterbeard/quietus-a-roleplaying-game-of-melancholy-horror
Next Stretch Goal: All Goals Reached
Current Percentage: 379%
Days Remaining: 5
Quietus is a tabletop roleplaying game designed for small groups and one-shot play. A game can be completed in around one or two hours, much like the horror movies that inspired its creation. The focus is on the characters and their tragic backstories. Scar scenes will delve into these traumas, giving a break from the tension and fear to bring these emotions into the spotlight. At its heart, this game is a struggle between Hope and Despair. These two scores are what determines if your character will survive whatever horror awaits them. Since all the Kickstarter goals have been reached, there are thirteen additional scenarios from other creators like Jason Morningstar (#feminism, Old Friends), Alex Roberts (Star Crossed, For The Queen) and Lauren McManamon (G .
Accessory
12mm Handcrafted Amethyst & Cats Eye Aquamarine Dice Jewelry by Todd Brammer
https://www.kickstarter.com/projects/1455764286/handcrafted-amethyst-and-cats-eye-aquamarine-dice-jewelry?ref=nav_search&result=project&term=Todd%20Brammer
Goal: $3,000
Current Percentage: 98%
Days Remaining: 5
This Kickstarter is so close to being funded. If you or someone you know wants to show off their love of gaming, give this jewelry a look. Made from amethyst or cats eye aquamarine, these d20 shaped pieces have only the number 20 on them at the top. With a simple, elegant design, these earrings or necklaces should make a natural addition to any collection.
Wild Card
Untamed: Feral Factions by Grumpy Owl Games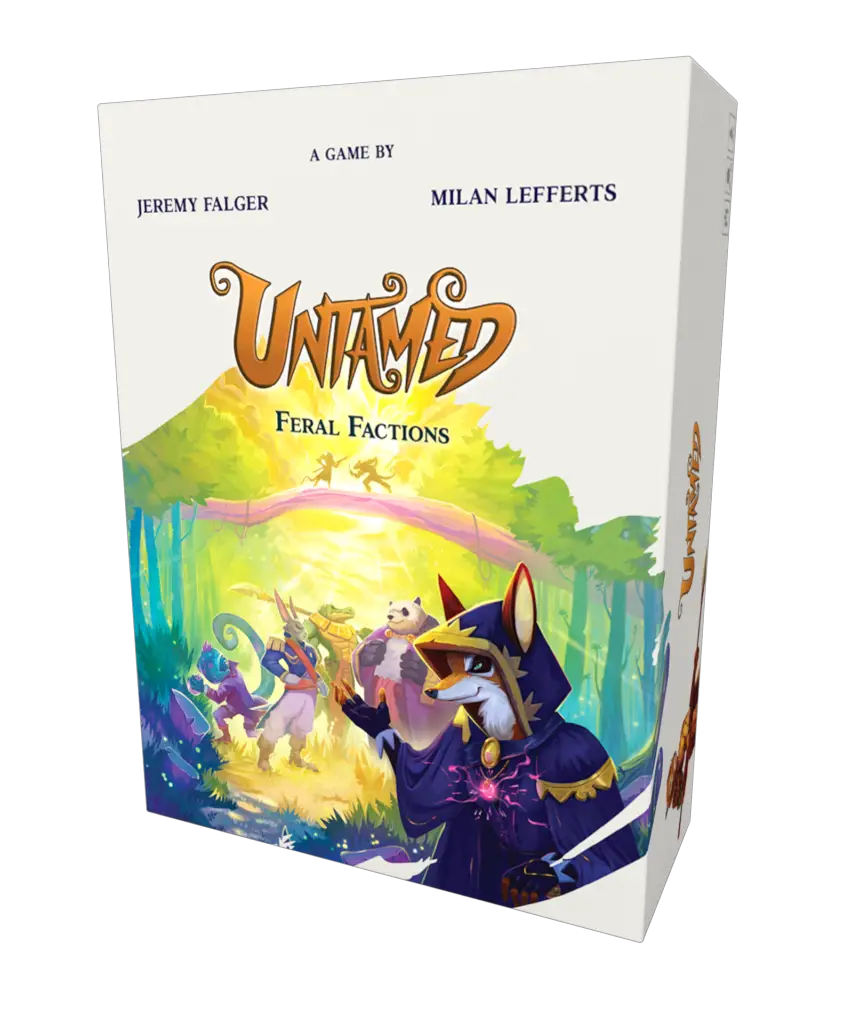 https://www.kickstarter.com/projects/grumpyowlgames/untamed-feral-factions/description
Next Stretch Goal: Achievements
Current Percentage: Level 4/6
Days Remaining: 8
Already you can tell that this game is a little different from the others on this list. The creators have chosen not to set stretch goals via money brought in, but rather through an experience points system that are earned when other goals are hit. This makes it difficult to ascertain just how close we are to some of these Achievements, but 4/6 of those listed have already been unlocked. The game itself is a card battling game where players team up with three factions of animals to become the victors of the Battle for the Wilds. One box will allow for two-three player games, while a second brings that number up to six. Unlike other card battle games, your defeated animal companions fall back to support instead of exiting the battle. These cards can then be used to power up the animals still on the front lines. With nine factions to choose from there is a ton of replay ability with this game. And since this game was funded in just three hours, it is safe to say others are as excited as I am.