Blessed Samhain and Happy Halloween! I have a special edition of Cat's Crowdfunding Corner for you. On my shelf, I currently have four tarot decks and six oracle decks, and I have a list of so many more. If this sounds excessive, you have not yet seen the incredible variety available in these forms. All of that is about to change! It was hard to pick, but we've narrowed the list down to about seven (the most magical number of all), including a mix of Tarot decks, Oracle decks, and a few surprises too! There are some seriously unique options here, so come check out the spread. (EN: ba dum tiss)
Tarot
The Beauty of Horror Tarot Card Set by IDW Games
https://www.kickstarter.com/projects/idwgames/the-beauty-of-horror-tarot-set
Goal: $15,000
Current Percentage: 40%
Days Remaining: 17
The Beauty of Horror was one of the first coloring books I purchased in my adult life. Now I have the option to color my own cards in that same dark style? Incredible. If the idea of coloring your own cards is not appealing, for some reason, they do have a pre-colored option. And if you don't want a deck yet, you can purchase the "Horrorscope" package for just $5. This will give you a new digital card every Monday for a year revealing your "Horrorscope" for the week. It will even include information on the meaning, making this a wonderful way to deepen your knowledge of the greater mysteries.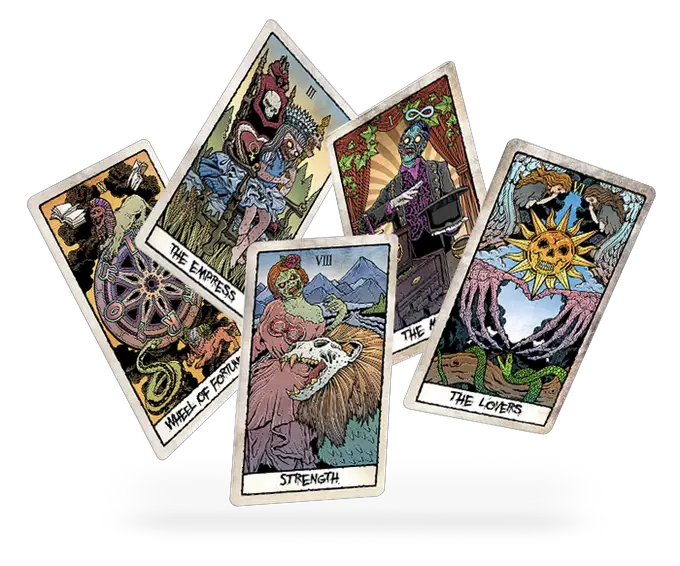 Temperance (non-alcoholic!) Cocktails: Alchemy and Inclusion by Haritha Gnanaratna
https://www.kickstarter.com/projects/haritha/temperance-non-alcoholic-cocktail-recipe-book-and-tarot-deck
Goal: $28,148
Current Percentage: 10%
Days Remaining: 24
This is a recipe book of tarot inspired non-alcoholic cocktails… AND a tarot deck. How exciting! Want to channel the energy of a card? Make a drink! The art is described as a "fever dream" of the traditional Rider-Waite Deck, and the promo art we see definitely delivers. So far, the deck will only be the major arcana that match the cocktails. However, if they reach their $50K stretch goal, they will create a full 78-card deck. Their goal is to make the tarot more inclusive, and they're going about it with their art and approach to drink making. Oh, and they're launching a spooky subscription box. I love the sound of that!
Tarot du Crépuscule by Zapatrax
https://www.kickstarter.com/projects/zapatraxtarot/tarot-du-crepuscule-a-divinatory-tarot-card-deck
All Goals Reached!
Days Remaining: 11
If the idea of just the major arcana appealed to you, then this deck is for you. The art is delightfully strange. The decks comes in English and French, but English is the Kickstarter exclusive. You also can buy tote bags, enamel pins, stickers, prints, and even a reading with an original drawing! There are tons of options to get this art into your life, and explore their version of the tarot. With four years of work going into this, it is clearly a labor of love.
The Divine Canine Tarot Deck by Zack Loup
https://www.kickstarter.com/projects/zackloup/the-divine-canine-tarot-deck
All Goals Reached!
Days Remaining: 19
This deck is not just for dog lovers. It also includes wolves, foxes, dholes, tanuki, and mythological figures. And that's just a start. Each suit of the deck is divided into sections, which is one of my favorite things in any tarot deck. The major arcana is where you will find all of those mythological figures and canine symbolisms. Cups is set in the arctic, so you can expect foxes and wolves with gorgeous snowy coats. You can see chalices frozen in the landscape. Swords also sees wolves and foxes, but these are the woodland variety. Many of the animals carry a found sword in their mouth. Wands is in the desert, where the coyotes and jackals roam. Their wands are branches and found bits of nature. Coins has the more unique offerings of canines. The coins on their cards show where each creature is from. A ton of research and care went into this deck and it shows.
Oracle
Astrosoul Oracle Deck by Maria Praena
https://www.kickstarter.com/projects/marianandamana/astrosoul-oracle-deck
Goal: $9,612
Current Percentage: 43%
Days Remaining: 25
This deck is simple and beautiful: dark blue cards with gold foil art based on multiple facets of astrology. It's a wonderful way to deepen your astrological practice, or a great starting point for beginners. If Mercury going retrograde on the 31stis making you curious or bumming you out, this would be something to consider! The deck covers the signs, the houses, planets, asteroids… the list goes on. If that sounds too complicated, don't worry. There is also a 200-page guidebook. An elegant exploration of how different divinatory practices can come together, it's definitely worth a look.
Witches of Legend: And Oracle Deck by Annabelle Lewis
https://www.kickstarter.com/projects/alewis/witches-of-legend-an-oracle-deck
All Goals Reached!
Days Remaining: 10
If you asked me whether this deck or the Astrosoul deck was more beautiful, I'd plead the fifth. It features both witches from history and goddesses of myth, all in a darkly ethereal black and white  style. Now that all the stretch goals have been included, each tier will also receive three extra cards, an altar cloth, and an enamel pin. The altar cloth will be based around the art on the back of the cards and will also be in metallic gold. The guidebook will also have at least two pages devoted to each card. The artist is also offering prints of some of the cards, and they are selling out fast. This is definitely my favorite depiction of goddesses I have seen in a deck. Annabelle's dark and emotional hand-painted style is truly breathtaking.
Accessory
Studio Ghibli Tarot Card Inspired Enamel Pins by gsoui
https://www.kickstarter.com/projects/gsoui/studio-ghibli-tarot-card-inspired-enamel-pins
All Goals Reached!
Days Remaining: 10
If all the talk of enamel pins being offered made you really want some pins… here you go! These pins are absolutely adorable, and now that the stretch goals have been reached you can get all three designs in both forms. These pins are based on the movies Spirited Away, Howl's Moving Castle, and Princess Mononoke. Respectively, the tarot cards represented are Strength, The Lovers, and Queen of Swords. Each pin also comes in a neutral or bright design, so you can choose your color palette accordingly. These pins are beautiful interpretations of the designs with that true Ghibli feel. Hopefully we see even more in the future!
Thanks for checking in for the special edition this week! I hope the 31st treats (or tricks) you well, however you celebrate. We'll be back next month with your regularly scheduled games!