This week's Whatever Wednesdays is a little bit different because Seher has joined Jeremiah to share their thoughts on the second Nollywood x Bollywood crossover film, Namaste Wahala!
From writer and director Hamisha Daryani Ahuja for her directorial debut comes Namaste Wahala, or "Hello Trouble," starring Ini Dima-Okojie as Didi (Chidinma), a lawyer, and Ruslaan Mumtaz as Raj, an investment banker, who fall in love but must deal with their disapproving parents.
Like every Bollywood film the romance starts with them literally running into one another on a beach and therefore the first dream song sequence is on the beach! (See below.)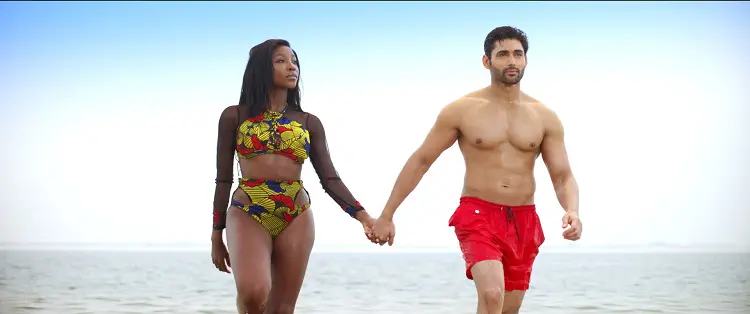 Seher
In my opinion, the film has an incredible number of plots going at once. Is the film a love story or really about Didi going against her dad, who is representing the father of the man who assaulted Didi's client? Or is it really about two cultures seemingly clashing which are actually incredibly similar in their upholding of specific standards for children?
As a romance, it's got all the proper beats with overbearing parents and people getting in the way of love. Which really just means that Didi's dad Ernest and Raj's mom Meera don't like their children's choice in partners. As a movie about people being racist, mothers fighting over which family is more respectable (lol), and other related chaos like marrying entire families, it gets all that right too. (Shout out to Raj's dad for being the only level headed adult around.) Especially when we find out that Didi's mother is Yoruba and her father is Igbo which has layers and layers of history behind it.
Where the movie actually tries to shine is the gender based violence subplot where Didi represents a woman who has been assaulted and, fortunately, because of characters just happening to come across one another, gets the footage needed to prove her client was telling the truth. And it turns out the NGO she's supporting is headed by none other than Ahuja herself! Among the literal thousands and thousands of films from both industries which produce the most movies, few weave in plots about gender based violence into films about romance, usually regulating them to intense dramas meant to impart lessons to the audience.
Does this subplot work against the backdrop of Didi and Raj's romance? I'm not entirely sure because there's just too many things happening. In an attempt to make the film not Bollywood length, there's not enough space in the film to deftly handle each plot point well. Still, I commend Ahuja for tackling an important and unfortunately always timely topic in a crossover film.
Jeremiah
It must be said, Namaste Wahala makes some bold decisions. Nevertheless, ultimately it can't handle the half a dozen spinning plates, juggling seven flaming chainsaws, and biting off substantially more than it can chew to keep it all going smoothly. Oh and then there are the requisite Bollywood musical numbers. 
Though to Ahuja's credit, I admired the brevity in which she efficiently and immediately established both the meet-cute and that the characters are in love with each other while the opening credits were still rolling. Didi (Ini Dima-Okojie) literally runs into Raj (Ruslaan Mumtaz) while out for a morning jog along the beach. It's such a clean and concise meet-cute that it harkens back to the early days of silent film in its visual simplicity and effectiveness.
The problem becomes the sheer number of plot contrivances thrown into Raj's and Didi's way to prevent them from living happily ever after. Worse, oftentimes it feels as if the scenes themselves are disconnected from each other. There's no flow from one scene to the next. It feels at times as if the production was rushed, with many scenes having a distinct feeling of being shot in one take. 
While I applaud the film for its attempt at tackling gendered violence, perhaps pairing that plot with a romcom already dealing with culture clashes and racism wasn't the best fit. Too often, scenes deal too much with the incident involving the abuse or forget about it completely for long periods. There is no through-line to hold any of the scenes together. Especially considering Didi is overseeing the case because the accused man is the son of her father Ernest's (Richard Mofe-Damijo) biggest client.
Ahuja's script, if you stand back, is part of a whole and makes a kind of sense. But the way the scenes are thrown together, Namaste Wahala comes off discombobulated. What kind of lawyer is Didi? What does her father even do for that matter?
While it's made abundantly clear that Raj is an investment banker right off the bat, neither his banking nor his investments ever mattering to the story. We never see him do any actual work, but we do see him talking on the phone a lot, mainly about answering emails, which is a perfect representation of our modern hell all its own.
One of the bright spots of Namaste Wahala however is Anne Icha as Angie, Didi's best friend. A sexually adventurous woman who, while heavyset, is never pigeonholed as the "fat friend." Icha as Angie is a delight, as she both loves Didi and tells her what she needs to hear. The scenes between Icha and Dima-Okojie are some of the best of the film as the two play off of each other wonderfully. 
Dima-Okojie is doing the best she can with what she has to work with. But Ahuja's script is so impossible to wrap one's arms around it feels as if Dima-Okojie is never sure what she's supposed to be doing in any given scene. The result is a talented actress floundering about adrift, not sure of her actions or emotions.
Namaste Wahala is a blend of Nollywood and Bollywood and it is littered with elements of both. But Ahuja forgets the crucial element in what the film itself wants to be, a decision that seems to change from scene to scene. Chaotic and inchoate, it loses the fun and whimsy amidst all the chaos.
Images courtesy of Netflix.
Have strong thoughts about this piece you need to share? Or maybe there's something else on your mind you're wanting to talk about with fellow Fandomentals? Head on over to our Community server to join in the conversation!