CW: Allegations of manipulation, emotional abuse
TTRPG content creators Satine Phoenix (former Community Manager for D&D) and her husband, Jamison Stone, were at the center of controversy this week when new accusations arose on twitter about their treatment of contracted freelancers, co-workers, and their fellow members of the TTRPG community. The two have worked with some of the biggest stars in the hobby including Critical Role's Matt Mercer, Krystina Arielle, and Luke Gygax.
It began when tattoo artist and D&D fan Chad Rowe started a thread on June 8th detailing his professional encounters with the husband and wife duo, particularly Stone. He had been employed to work on the couple, including three days of work on Stone. After mentioning his previous work involved contracts (Rowe famously has done work on Post Malone), Stone became intrigued by the idea and wanted to set one up after the fact. That began a long back-and-forth where Rowe fielded calls and questions from both Phoenix and Stone, and in his words felt "incredibly insulted and boardline abused" by the two allegedly using their apparent fame to try to coerce him to follow their instructions.
News travels fast on TTRPG twitter, especially with creators as prolific and connected as these. Soon others were sharing stories. Writer and game designer Jessica Marcrum shared screenshots from interactions surrounding her work on Sirens: Battle of the Bards, a 5e campaign and setting book which raised almost $300,000 earlier this year. There, Jamison seemed to act cagey around questions of freelancer payment when asked by Marcrum and other writers, later placing them on a "blacklist" and threatening their livelihoods over "unprofessional behavior."
This was backed up by the project's writing lead Pat Edwards, as well as writer Crystal M. Another writer shared a similar experience working on Stone's Red Opera campaign.
Freelancer Ray Jenkins went further, declaring his experience on the project "a nightmare" that served as an "ego trip" for the creators who made him feel like he should be "THANKFUL for the opportunity to work with a 'D&D Luminary' and Apotheosis."
Even Elisa Teague a.k.a GeekyPinup, who has worked with Satine on multiple projects, stated that she is as yet unpaid for her work on Sirens.
A Gaming Power Couple?
Satine Phoenix has been a staple of the D&D scene for over a decade thanks to her work on Geek & Sundry, The Sirens actual play show, and her work with Wizards of the Coast as the Community Manager for D&D and as an on-stream personality. Jamison Stone is a fitness guru and game designer who married Phoenix at this year's GaryCon. Both live in Colorado. Satine is the main force behind Gilding Light, a storytelling studio based in LA, while both run Stone's Apotheosis Studios, which published Sirens: Battle of the Bards, The Red Opera, and other publications. Phoenix and Stone were married at this year's GaryCon in a streamed ceremony featuring other TTRPG streaming creators and officiated by Luke Gygax, son of D&D creator Gary Gygax.
The two also started a fitness brand StonePhoenix as well as Satine's Quest, a sort of combination luxury vacation and game convention where groups of Dungeons & Dragons fans can play with famous DM's like Phoenix, Stone, Eberron creator Keith Baker and Jason Charles Miller of The Sirens.
One of the DM's on a recent Satine's Quest Cruise, Jason Azevedo of Realmsmith, posted his own reply to Chad Rowe's thread. In his statement, he mentioned attempts at grifting, abuse of employees, and gaslighting of organizers and guests up to and including Phoenix herself (an allegation against Stone also made by Rowe).
One of the organizers of D3atSea (a similar concept to Satine's Quest where you play D&D on a boat) accused the couple of trying to oust him from events and shut down D3 to eliminate the competition. In his thread, Jason alleges that Phoenix and Stone went behind his back to poach business and force him from D&D In A Castle.
More stories began to come out of Phoenix and Stone's actions and demeanor at conventions and within the space, of a sense of entitlement and celebrity that was covered by an outwardly loving and positive persona. They've also been connected to other problematic creators in the scene like Zak Sabbath, who Phoenix disavowed in the wake of his own allegations.
In one detailed thread, two content creators went through their time working the couple as on-air talent at PAX West. They describe a long list of demands by the couple (including refusal to wear any shirt that wasn't black and sleeveless), allegations of unprofessional behavior, manipulative behavior, and mistreatment that allegedly led to vendors offering the creators (who were paying Stone and Phoenix for their time) swag and snacks out of the belief that they were the more famous couple's beleaguered assistants.
Fallout
Satine herself has made no comment, but Jamison put out a statement on his Facebook wherein he expressed apologies to Rowe and his wife Satine. He stated that his actions stem from "Complex Post-Traumatic Stress Disorder" and that he has been working with a therapist. It makes no mention of the accusations being leveled by freelancers.
So far, four of the ten events to be hosted at this weekend's Origins Game Fair by Stone, Phoenix, or both have been canceled: Inclusivity in TTRPGs, Indie TTRPG Publishing & Kickstarter, and both sessions of the Tentacles in the Deep game. Stone has also been removed from the convention's Special Guest list. Ashley Benson, Marketing, Social Media Guru, Executive Assistant at Apotheosis Studios, announced her resignation from the company as well.
The Fandomentals has reached out to Apotheosis and Gilding Light, as well as Satine Phoenix, for comment but have not had a response yet.
UPDATE
The Red Opera co-creator Pat Edwards has come forward with a detailed account of his experience working with Stone on the project, including allegations of threatening language and the holding hostage of owed royalties by Apotheosis.
UPDATE
On Friday night, there were mass shakeups at both Apotheosis Studios and Phoenix's Gilding Light collaborative studio. At Apotheosis, Jamison Stone has resigned from his position as CEO as of last night, with the studio's Marketing, Social Media Guru, and Executive Assistant Ashley Benson also resigning.
Gilding Light, Satine's storytelling collaborative network in LA, has also had multiple people leave the group (these positions were unpaid). These include the head moderator and Community Manager of the GL Discord, Producers DC Lasair and and Greyghostgirl, and the group's social media manager Kurt Venetis.
Talent on the group's affiliated shows expressed their disappointment, with Action Pact DM Tony Bork shopping his show to other channels and Chrystal Fier (who played on Inspectres with DC and Lori) leaving as well.
We've also gotten new allegations from a few different sources. Islands of Sina Una co-director and designer HTTPaladin alleges in a tweet that his work on a stream to promote a Kickstarter by Stone and Phoenix ended up unpaid.
Voice Actress and game designer Liisa Lee came forward as well, alleging that during her time working with Phoenix and a previous partner Ruty Rutenberg she was used for free labor, robbed of credit, and allegedly defamed by Phoenix in retaliation to her refusal to go along with it. She was allegedly shut out when she spoke to Wizards of the Coast. In the back half of her thread, Liisa describes how Satine worked behind-the-scenes to undermine her business networking during the Stream of Many Eyes.
Lee's allegations predate Satine's relationship with Stone.
Frequent collaborator Keith Baker also spoke up in support of individuals coming forward with allegations.
Level Up Dice have also terminated their relationship with Apotheosis Studios.
UPDATE
In a statement shared with The Fandomentals, an employee of Lostlorn Games (who wishes to remain anonymous) alleges that while Jamison and his wife Satine Phoenix were employed by Lostlorn to promote a Kickstarter, Stone allegedly berated the writer at GenCon and ultimately walked out on commitments to the company after forcing a delay in fulfillments. The full story is here.
UPDATE
Origins Game Fair has issued a statement regarding the situation. Both Satine Phoenix and Jamison Stone were previously listed as Special Guests for the convention, as well as hosts for several events. Stone did not attend but Phoenix has been posting from the show floor.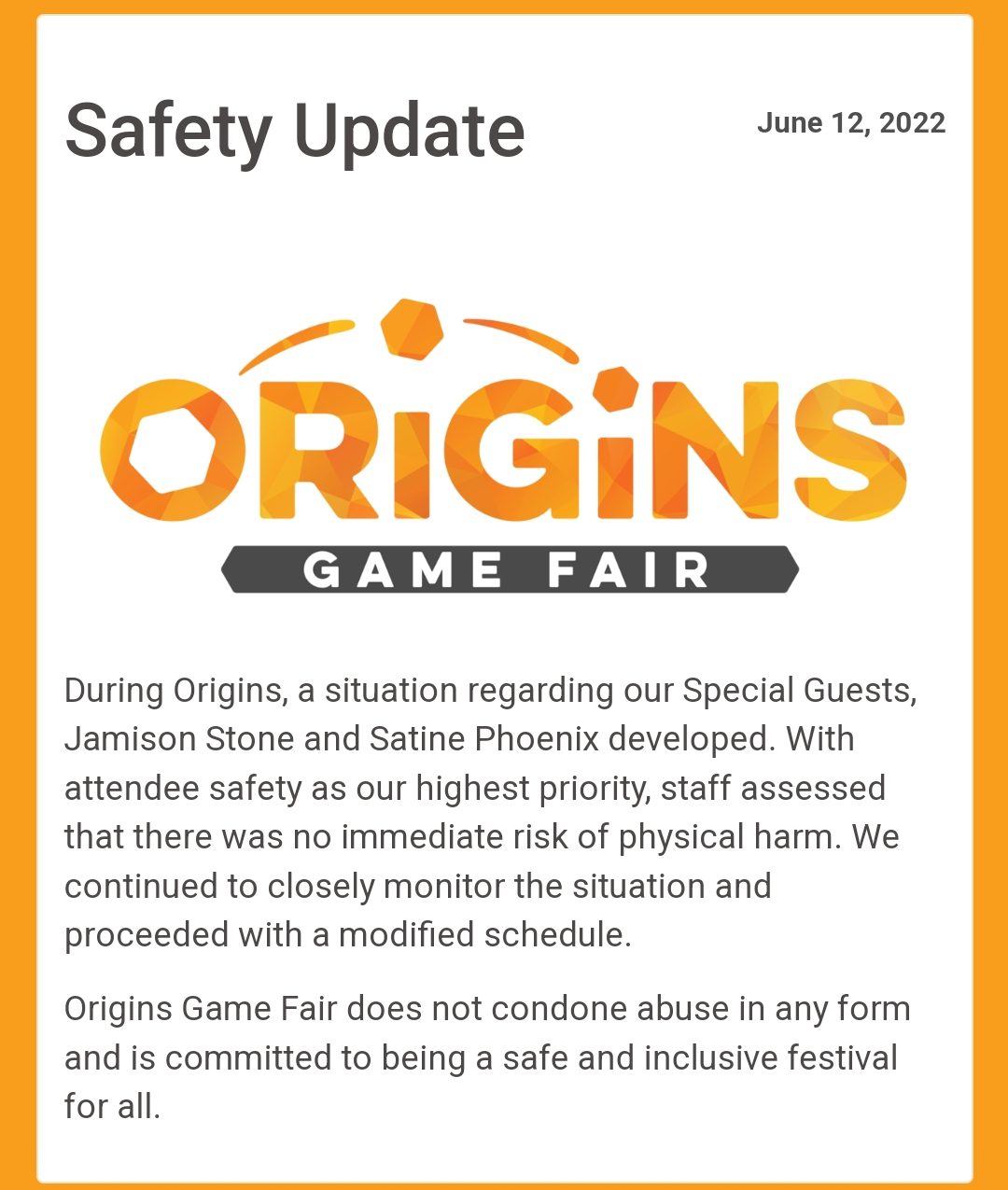 Furthermore, a new set of allegations against Stone have come out from a cosplayer and leatherworker named Max. In her thread, she details how he allegedly approached her to offer spiritual guidance and, when she declined, appeared to become condescending and hostile.
She later alleges that Stone solicited her for sex during a professional meeting.
UPDATE
A co-founder of Gilding Light who worked as the company's Community Manager, Chief Editor, and as a Writer has come forward with new allegations against Satine Phoenix. Lilah Hahn alleges that Phoenix was dismissive about Islamophobia and manipulative of Hahn while the two worked together.
Lilah has been supported by her editor at Gilding Light who alleges that her work for the collaborative was unpaid and that Phoenix would shut Han down in meetings.
Furthermore, two cosplay creators report they moved cross country (to company communal living) for empty promises from JS of starring in a motion capture video game, only to find a controlling manipulative environment and no game. (Relevant info starts at 16:00)
UPDATE
Satine Phoenix has put out a statement about the allegations against herself and husband Jamison Stone, apologizing for enabling "Jamison's terrible behavior" and that she will be responding to several threads individually.
Suicide prevention charity Jasper's Game Day has also cut ties with Phoenix, Stone, and their respective companies. The two have been involved in the non-profit's D&D fundraising games, which recently included a special week of gaming in partnership with Wizards of the Coast.
UPDATE
Per Robert G. Reeve, Garycon (where Stone and Phoenix were married earlier this year and where Satine has been a frequent guest) has not added them to the list. They don't seem to appear anywhere on the Garycon site, either.
Comics creator Jim Zub has distanced himself from Phoenix.
Dungeons & Dragons writer and Monte Cook Games Community Manager LaTia Jacquise has also removed a stream from her site featuring the couple.
D&D In A Castle, with whom Phoenix was heavily involved and both have worked with in the past, have cancelled all scheduled events with the duo and will no longer work with them in the future.
Cosplayer and Twitch partner Milynn Moon has come out with her story, alleging that a former partner of Satine's, Ruty Rutenberg, violated her mentally during the making of the official Dungeons & Dragons show Maze Arcana and that speaking out about that incident caused Satine to drop her from Sirens and other shows.
Moon has stated she will give a full account of the incident soon.
According to documents filed with LA Superior Court, Phoenix is being sued by former partner Ruty Rutenberg, alleging that she misappropriated $40,000 dollars from Maze Arcana.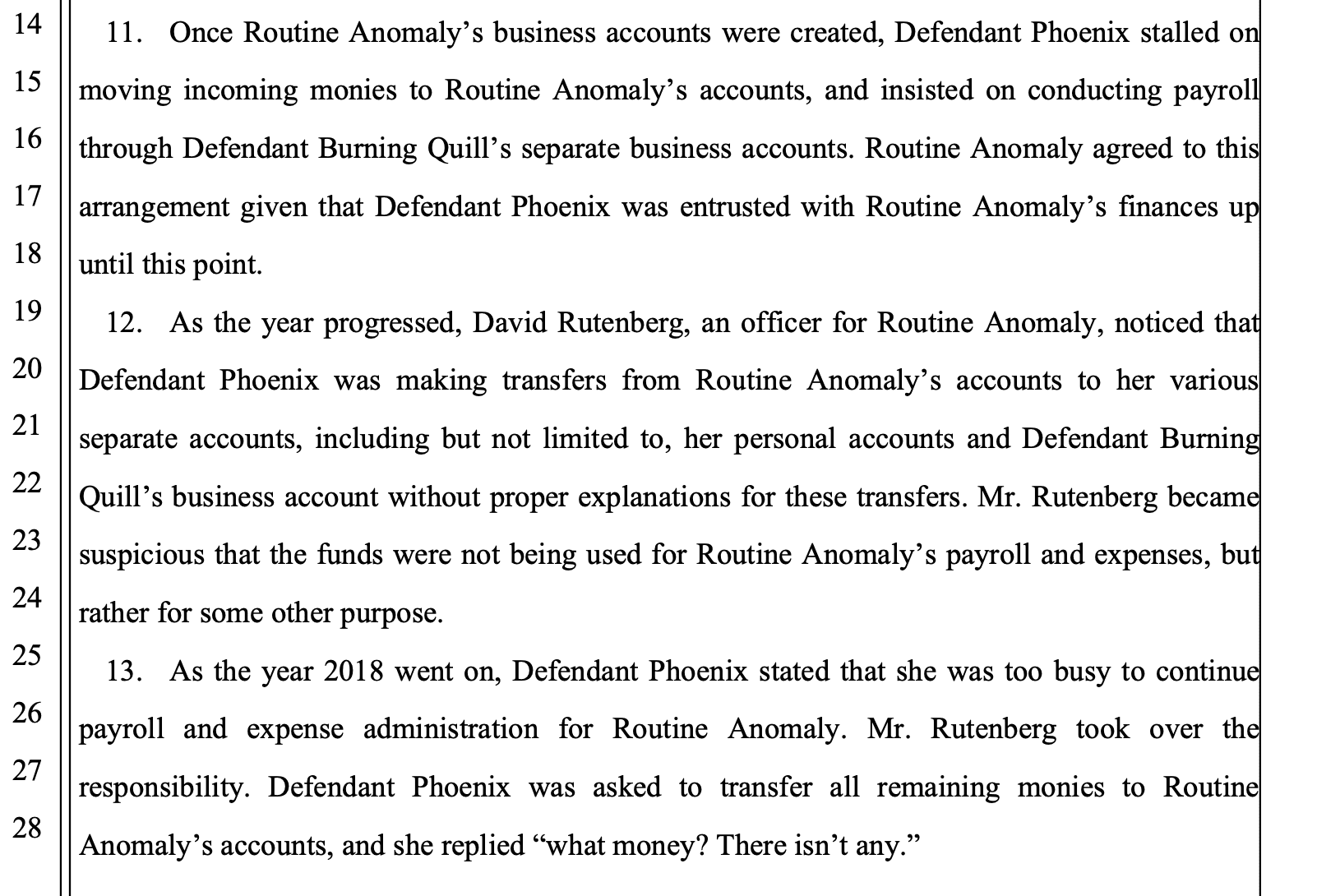 According to court filings, this suit was filed in July of 2021. A second suit listing Phoenix as plaintiff was filed in February of this year, most likely a countersuit.
As this is a developing story, this article will be updated as new details come to light. Wizards of the Coast, Critical Role, and Phoenix have all declined requests for further comment.
Images via respective owners.
Thanks to Robert Reeve for his help in sourcing for this article.