Christmas has never been an easy holiday for me. Growing up in a military family, my dad was usually gone and I would be in another country, some of which didn't celebrate Christmas quite often. However, I still had my traditions. Batman: The Animated Series was one such tradition. The show has a special place in the hearts of millions of fans for its amazing animation, superb storytelling, and the voice that would become synonymous with the image of The Joker. With Christmas coming up, what better thing to talk about then The Dark Knight's run in with the most wonderful time of the year?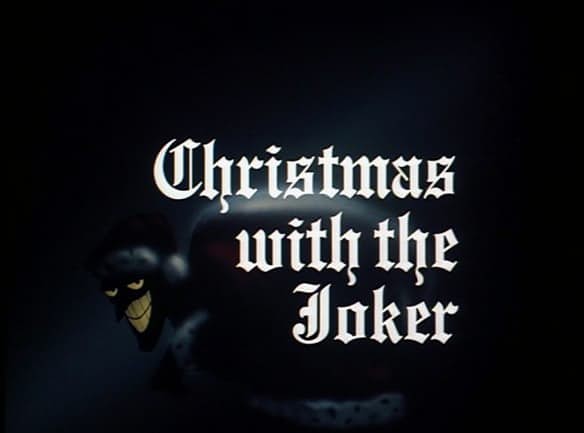 "Christmas with the Joker" is to me, one of the best Christmas specials out there. Though panned by both fan and critics alike due to its zany story in comparison to the later episodes, the story really shows the true meaning of Christmas through a man who never got to celebrate it. With the death of his family at a young age, Bruce had very little interest in celebrating a holiday focused on family. Would you?
The beauty of this episode is in this detail, however, for the character of Robin nudges Bruce to sit in and have a nice dinner rather than going out and patrolling. He believes that even with the escape of The Joker from Arkham Asylum, "Even scum spend the holidays with their families". Robin at this time could be considered the only family Bruce has left, and he urges him to celebrate like everyone in else. In fact, it seems like the whole city has taken to the holiday cheer. While on patrol, Gotham is unusually quiet, with good samaritans and joyful jazz music playing in what can be considered the worst city on earth.
Family is what Christmas is all about, and this is seen through both sides. The Joker kidnaps Jim Gordon and company and forces Batman to find them before midnight. All his attacks such as blowing up a train with Summer's mother on it or even the final scene where the "Family" is held above a boiling pot of lava shows a focus on the one thing Batman doesn't have. He taunts him by forcing him to save what was taken away from him. It's rare we see the human side of Batman in any media, and I find it refreshing.
As with any Chrismas special, however, there is always a redemption arc. This comes in the form of the final scene. After defeating The Joker and saving the Awful Lawfuls, Bruce, Alfred and Dick all sit around to watch It's A Wonderful Life, a film that, as Dick puts it, is about how one man can make a difference in a city. With this being the second episode in the series, it's our first glimpse into the small and somewhat broken but always connected family of the man who thought he had lost every last bit of Christmas Spirit.
This special has a sweet story, funny puns, an uplifting ending and a cynical man, every ingredient needed to make it a tradition in your own house. I highly recommend sitting back with some hot chocolate and maybe some egg nog and enjoy a cute 22-minute episode.
---
Images courtesy of Warner Bros. Animation