The sheer number of subscription boxes available is fairly baffling, but Bespoke Post is fun because there's not actually a surprise aspect to its system! Unlike other lifestyle subscription boxes where the customer has some idea of what they're getting or no idea at all, Bespoke Post just lets you customize, swap, or even skip your box!
I have been trying boxes out since last year and was intrigued by Bespoke Post because of its advertising as super quality and high luxury items. Though it is definitely slanted in its marketing to men, most if not all items can be used by anyone, like the Antipasti box that I chose for my first shipment!
Since I could skip a month, it let me wait to purchase a box when it was better for my budget and then the second month, I chose to swap my item for a charcuterie board starter kit.
Coming with a set of cheese knives, mustard, cornichons, and salami (which went to friends since I don't eat pork), it's the perfect charcuterie starter kit. The board is carved from a sturdy acacia wood. Plus, it has a handle and hole for hanging which is great because so many boards don't have an actual method of…handling them.
All items in a Bespoke Post have a full description and if not a Bespoke Post exclusive, a direct link to the website where you can find the item. This is a smart business decision because past customers can purchase past boxes until they're out of stock and for items like the mustard, knives, or cornichons I can get more elsewhere!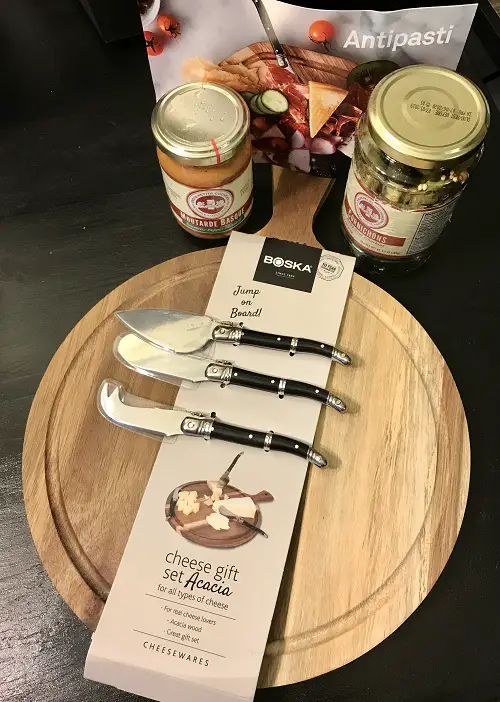 What I love about Bespoke Post is that each box online also comes with what the company calls guidance, whether for the item as a whole, or how to use the items in different ways. For example, the image below shows which knife should be used with which type of cheese. For boxes that are travel, like Weekender, or don't have a similar need for guidance, the site provides a gif of the caryall getting packed so you can see just how much space there is. If I ever fly anywhere again, I'd totally get it.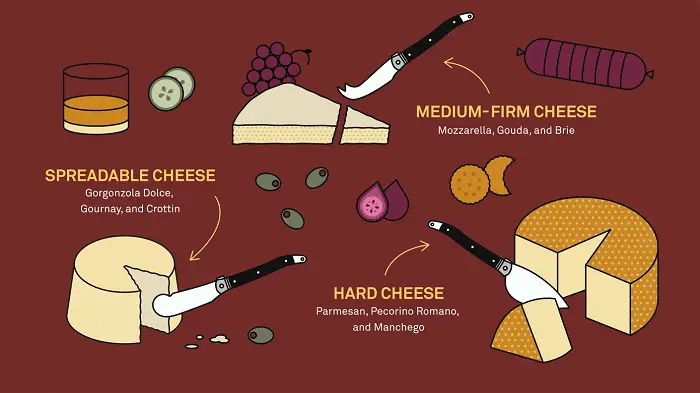 Like most large subscription box companies, Bespoke Post also offers a shop where you can add items to your monthly shipment including past boxes and other "individual" items as well. There seems to be 20 boxes available to peruse with new ones coming each month.
Since I signed up during Black Friday, I was also sent a "mystery box" with this first shipment which included five completely random items like an Orange Clove Bitters sample (a gift to someone else), mini domino set, two leather coasters, sandalwood incense cones infused with lavender and cedar, and one RXBAR. Not necessarily items I would have picked out for myself, but the incense cones smell beautiful and the coasters are gorgeous!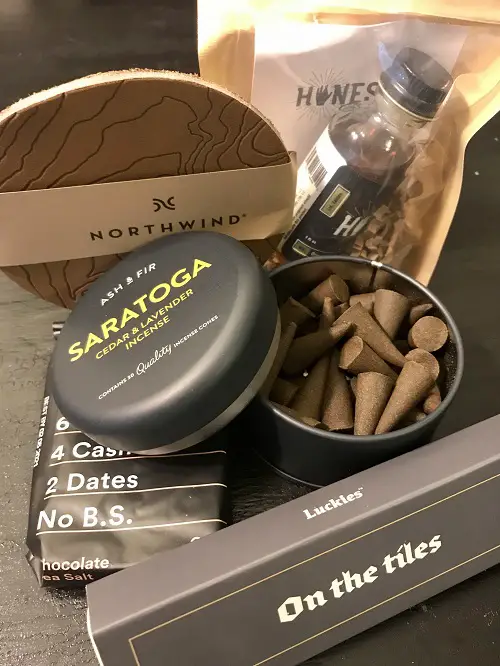 Plus, signing up when I did got me a discount so I only paid $41 instead of $52. You can get free shipping if you pick items that are more than $75 but $4 in shipping is not bad at all! The incense cones retail for $20 alone so I absolutely got my money's worth for this box.
Other boxes are all designed around a specific theme and have a matching name, like Frontier, with "sturdy supplies for your everyday adventures" or Parlor which is "a fine spot to showcase your best booze." Like I said, the site is definitely marketed towards men but has products for everyone. In fact, I've already ordered my next box, the Sizzle.
At $45 a "box" plus shipping, this comes in at the cheapest of the subscription boxes that I've tried so far and like all the boxes I've liked, have either sent or given me the option for items I wouldn't really think about otherwise.
If you do try out Bespoke Post, you can use this link to receive $20 off your first box (full disclosure, I would receive $20 too), and they run specials once in a while as well.
Images courtesy of Bespoke Post.
Have strong thoughts about this piece you need to share? Or maybe there's something else on your mind you're wanting to talk about with fellow Fandomentals? Head on over to our Community server to join in the conversation!