Today, Beadle & Grimm's launched their Kickstarter for Ring of Chaos, a competitive dungeon crawler pitting adventuring parties against one another as they battle for control of the titular magical artifact. It's not just Beadle & Grimm's first foray into board games, it's also their first time working with truly original IP. In order to get a little more info on this new development for the company and learn a bit more about the Kickstarter, I spent some time chatting with Bill Rehor and Jon Ciccolini to get a peek into the chaos.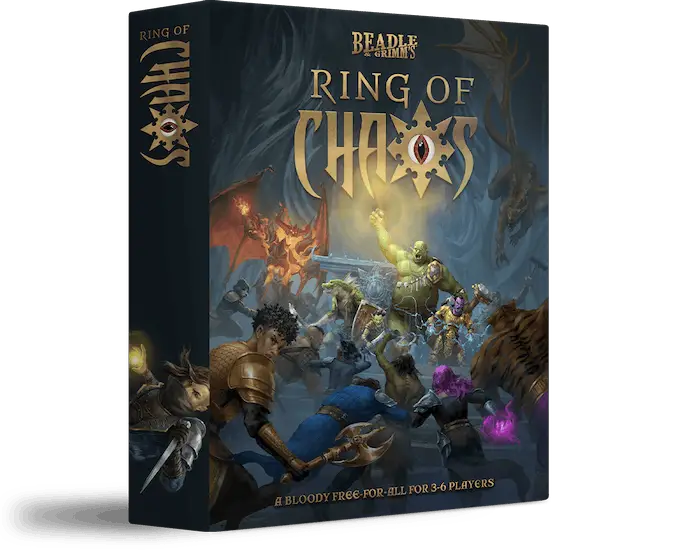 Beadle & Grimm's has always been a passion project for the five co-founders, and Ring of Chaos began as an experiment on the part of Rehor, who spearheaded the project from start to finish. It first started out getting played at their company retreats, where they tested out Rehor's home-printed prototypes. It then got tried out among friends and with the help of a group of USC students called the Trojan Adventuring Party, before finally reaching its final form around Gen Con 2023.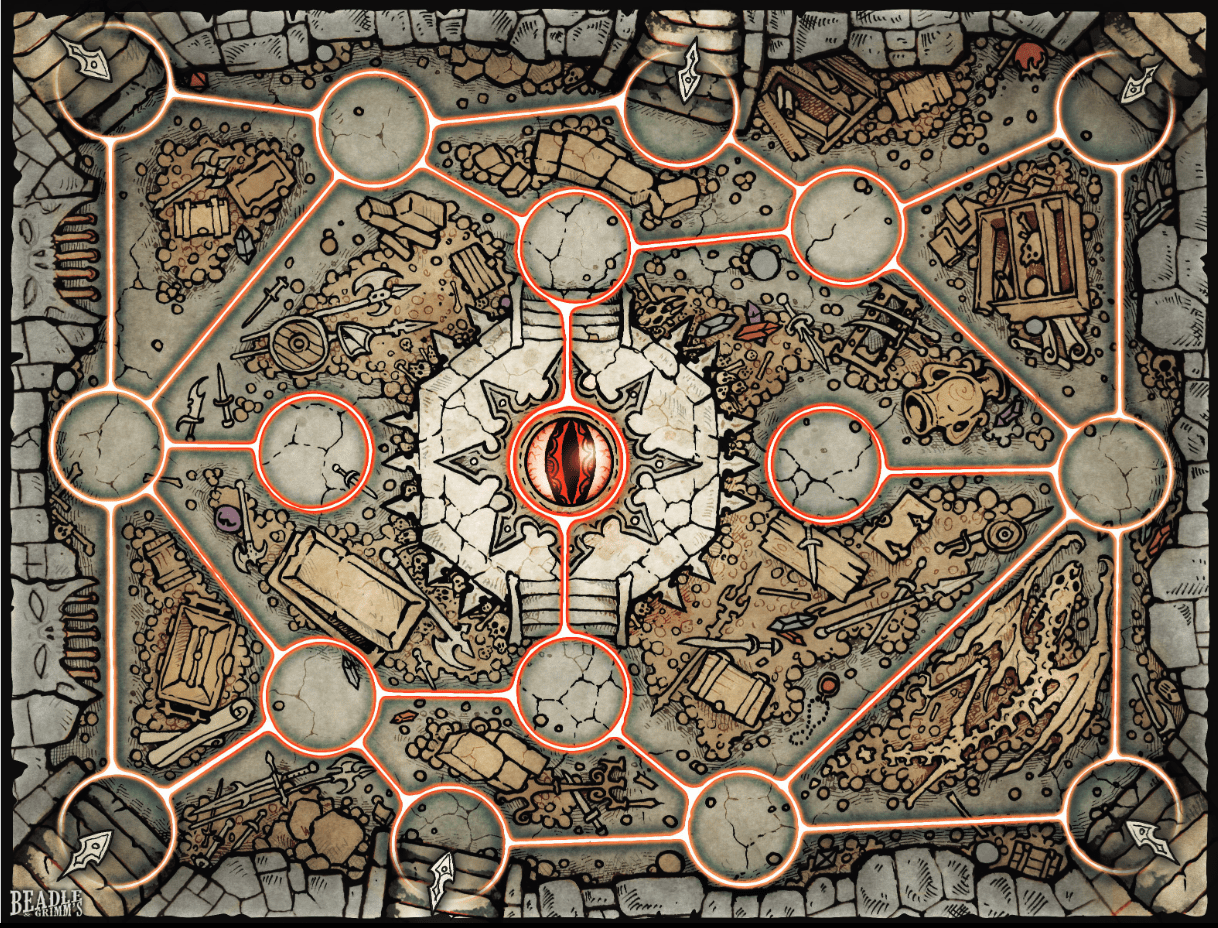 According to Rehor "We're very old, and still very passionate about getting people around a table physically. It's a wonderful experience to get your friends or family together." But they hesitate to even call it a proper board game, mentioning that it's also a card game, a story game, and a TTRPG in many ways. It is, as Rehor said, "A mishmash of things we love to do around the table."
Players begin by choosing an adventuring party, each with their own unique power, and come up with a catchphrase for them. The game itself is similar to other skirmishers like Unmatched in that the actions are entirely dictated by the cards in your hand. These let you move, attack, or perform another action as needed. Each member of a player's party can take two hits before going down and if they lose all their party members they'll be out of the game. Victory is achieved by either eliminating the other parties or getting enough "summoning points" by gaining and wearing the Ring Of Chaos or defeating other parties and taking their points.
The relative simplicity of the title and the quickness of the gameplay was fully intentional on the part of the team. For them, a lot of the DNA of the game is in the board games they play at their regular family retreats.
"We don't play Risk at these events, because I've never played a game of Risk where someone doesn't get ticked off," said Rehor. "We also don't play games that take three hours to learn and four hours to play. We want things that can start quickly and get into the fun without worrying about how complicated the rules are."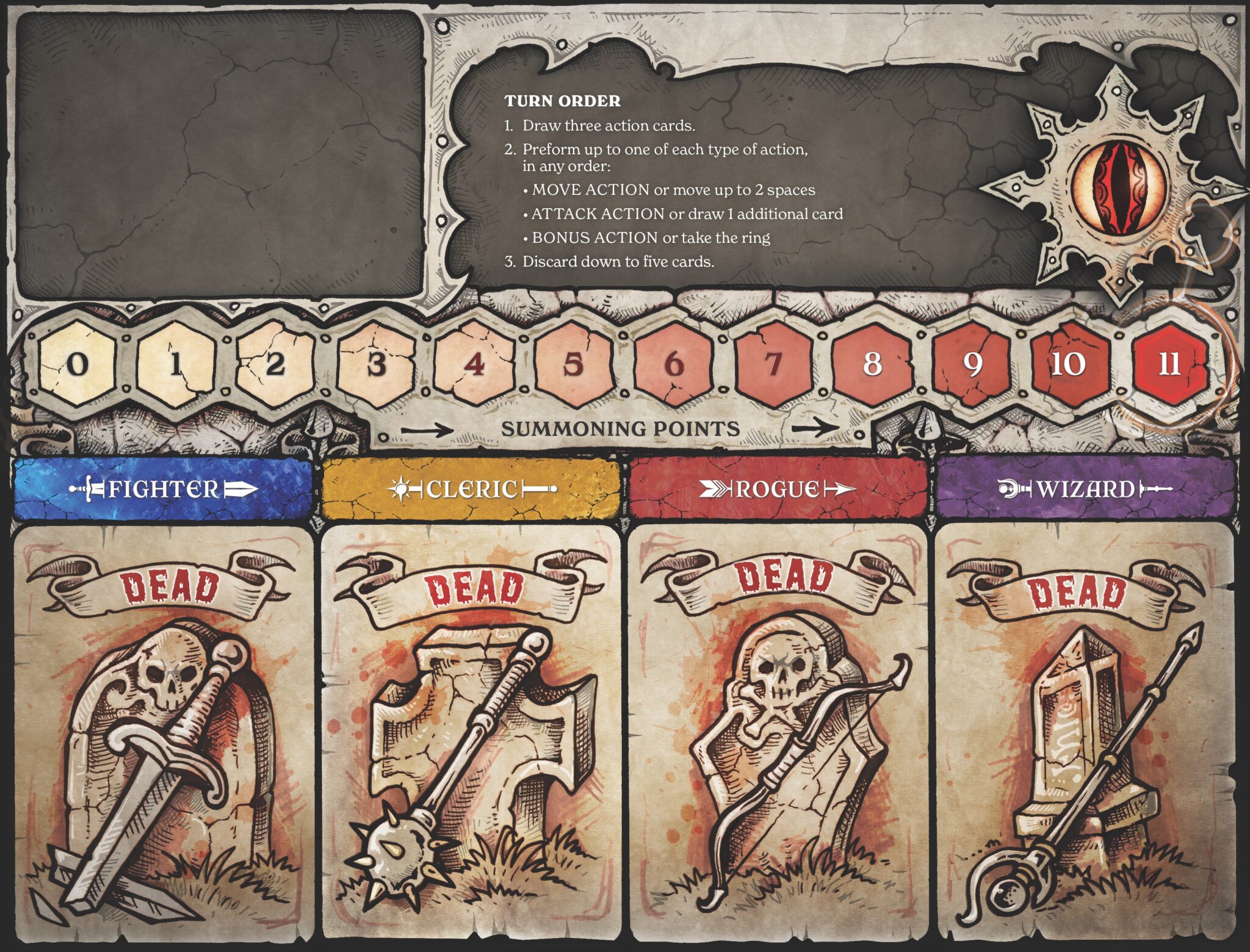 The look was a key part of the game's development, and Beadle & Grimm's worked with many of the artists they've used in the past in work for Dungeons & Dragons and other projects. But they also wanted it to fit their unique vision. As Bill put it: "We are children of Gary Gygax's world and aesthetic, and it's very natural for us to end up here"
Jon Ciccolini handled a lot of the visuals for the game, and emphasized the fact that it was still meant to immediatly be recognizable to Beadle & Grimm's fans. "When you look at the battle map for this game, they'll recognize it immediately."
The game also retains the humor and creativity you'd expect from the Pandemonium warehouse, with one major mechanic being the "catchphrase" that players come up with for their team that they'll call out at different times. That, to Ciccolini, is a "snapshot" of the Beadle & Grimm's style. "We've been doing that for years for games that don't even have that, just to add a bit of extra fun to them."
There has been talk about future additions to the game like extra teams, new maps, etc. but they're playing it safe to wait and see how it does when out in the general population. The Kickstarter DOES feature a Platinum Edition of the game, which includes a special box, foil cards, and minis to replace the cardboard standees of the base game.
The Kickstarter for Beadle & Grimm's Ring of Chaos is LIVE and runs through December 6, 2023. Demos of the game will also be run at this year's PAX Unplugged, with fulfillment beginning early next year. It will also be available at retail.
Images via Beadle & Grimm's
Have strong thoughts about this piece you need to share? Or maybe there's something else on your mind you're wanting to talk about with fellow Fandomentals? Head on over to our Community server to join in the conversation!