Beadle and Grimm's, a champion of the tabletop roleplaying game experience, have announced the unveiling of a new type of product: the DM Vault. The DM Vault is their first adventure accessory line designed to supplement rather than include the adventure book. The DM Vault offers a lower price point than B&G's other, more expansive tiered products like Platinum & Silver Editions.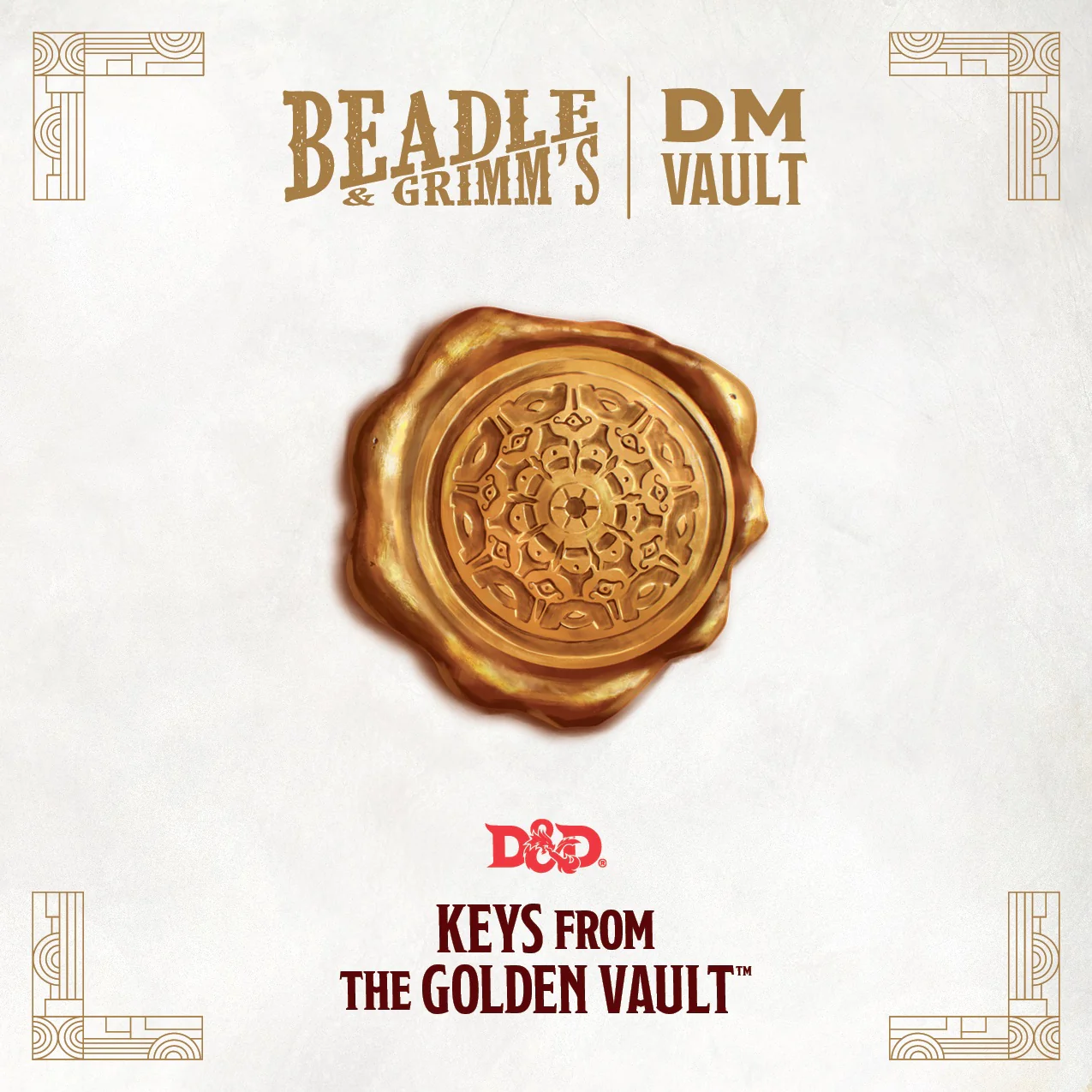 Officially licensed by Dungeons & Dragons, Keys from the Golden Vault is first in the line of DM Vault products for Beadle & Grimm's and contains all the elements a Dungeon Master (DM) needs to create an amazing experience for their players.
The DM Vault for Keys is packed with exclusive items, including:
●      6 BATTLE MAPS
A hallmark of Beadle & Grimm's boxed sets are the beautifully rendered battle maps, and the Keys from the Golden Vault set will continue that tradition, including 6 scaled-for-minis battle maps for some big boss fights.
●      13 DM MAPS
We've included separate versions of the DM's maps for easy reference and annotated them with an at-a-glance Map Key to all the areas.

●      13 PLAYER MAPS
These in-world maps, one for each heist, get handed to the players to help plan their job.
●      13 IN-WORLD CALL-TO-ACTION LETTERS
These artist-rendered letters can be handed to the players as a start to each heist.
●      9 IN-WORLD HANDOUTS
Artist-rendered details and clues found within the adventures can be handed to the players, instead of just read to them.
●      GOLDEN VAULT ASSIGNMENT FOLDER
Not only can this fold-open folder act as a case for all the DM elements, but it can also double as an in-world puzzle for the players. Can they solve the clues to unlock this assignment folder?
 "The DM Vault is priced to appeal to a wide range of tabletop DMs and still comes packed with items that we love to create for them: maps and in-world handouts," says B&G Founder Charlie Rehor.
 Product images will continue to be added to the Keys from the Golden Vault webpage as they become available at www.beadleandgrimms.com/keys.
 Beadle and Grimm's Pandemonium Warehouse was founded by actor and longtime gaming enthusiast Matthew Lillard (Scooby Doo, Good Girls), Jon Ciccolini, Bill Rehor, Charlie Rehor, and Paul Shapiro.
 "Some of my favorite memories at the table have been connected to heist adventures, and the ones in Keys to the Golden Vault are really well done. There's an added level of adrenaline when Beadle is trying to pull off a detailed heist job and things go sideways!" adds Matthew Lillard.
The Beadle & Grimm's DM Vault for Keys from the Golden Vault can be purchased at a reduced price of $85 until February 17, 2023. After February 17, 2023, the price will be $95.
Images via Beadle & Grimm's
Have strong thoughts about this piece you need to share? Or maybe there's something else on your mind you're wanting to talk about with fellow Fandomentals? Head on over to our Community server to join in the conversation!