It's time to dive into the world of cooperative deck building with Astro Knights, a game of heroes and alien foes from Indie Boards and Cards.
Overview
Astro Knights is a cooperative deck building game where your deck is never shuffled. You and your friends play a group of heroes from across the galaxy who've united to defeat cosmic threats that threaten the whole galaxy.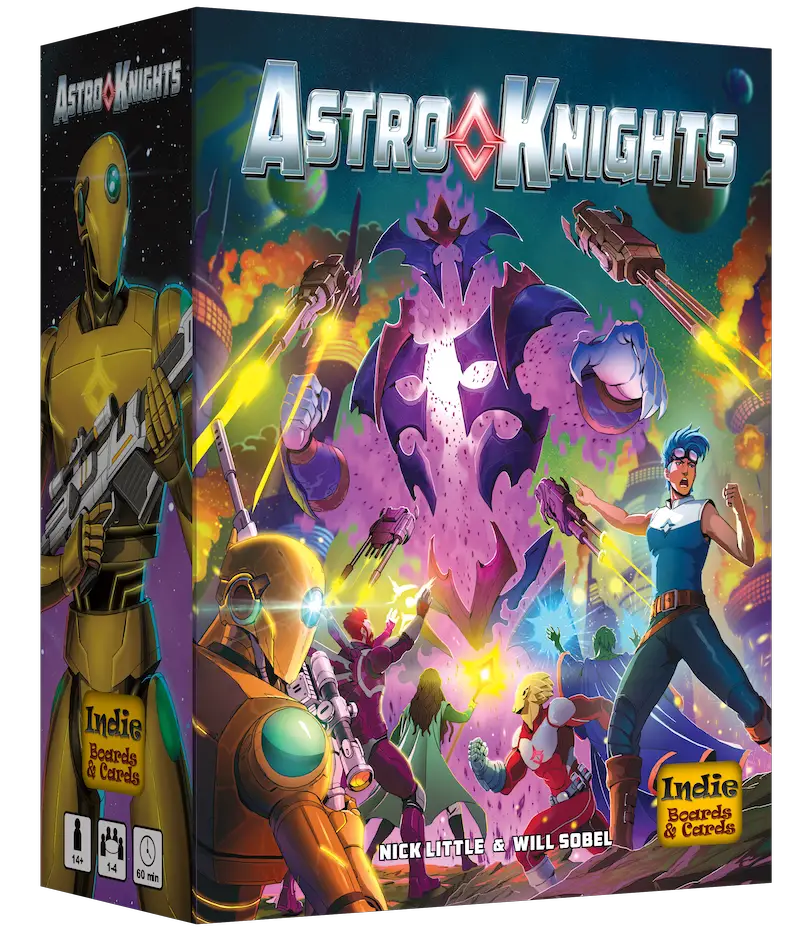 Aesthetics
From an artistic standpoint, Astro Knights is solid. Characters are varied, drawing on tropes and archetypes without leaning all the way into being rip-offs.
Characters are distinctive, resulting in the cards that go with them being easy to identify, which is good in a game that involves some level of strategy and being able to plan and work together. Plus they're just nice to look at, being dynamic and distinctive.
From a construction standpoint, Astro Knights' cards are likewise solid. Everything holds up fine, nothing's sticking together or bending easily. It's a solid game before we even get into the mechanics.
Speaking of!
Gameplay
Astro Knights is a card-based game all about working together to defeat a mighty boss controlled by RNG. Each boss has their own rules and cards, and can be set to various difficulties just based upon your preferences.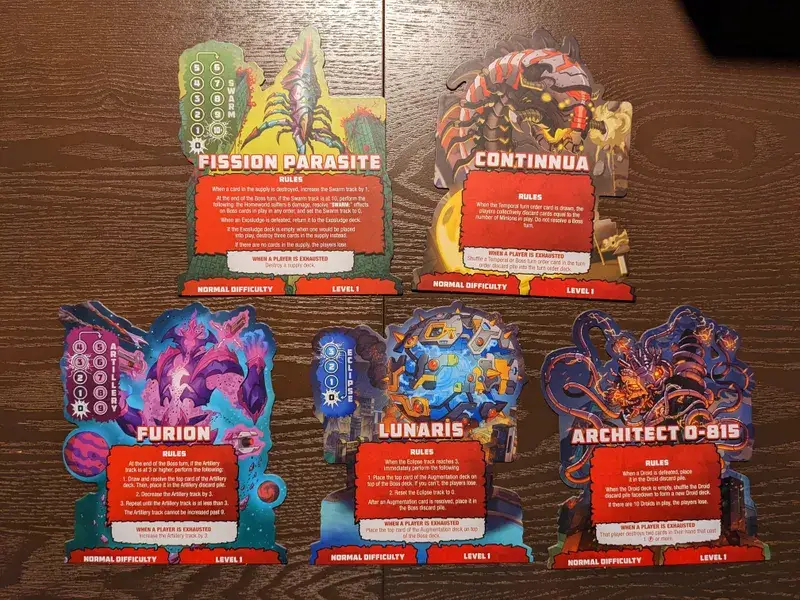 You then pick your hero and set up their power, health, and 'slot' tracks which keep track of the various things they need.
Each character has a snippet of lore, but also their own powers and tricks, making things set differently depending on what you want.
If you're thinking that this all sounds like an NES-style RPG but in a card game format…yes, yes it is. A simple one that's only one boss and set to last about an hour, but that's the easiest way to lay things out as a high-level summary of things.
Once you've laid out your hero and the boss, set up your deck and starting hand, as described on the back of the hero cards. From there you'll then set up the supply decks (what you'll be drawing from to supplement your starting deck), the Homeworld (what you're defending and what the boss is trying to attack, and the boss' deck.
Once you're all set up and have the turn order figured out, you begin your round of Astro Knights, with the option to equip a weapon, activate your ability, or activate the Homeworld's ability, among other things. Then you draw, and attack, focusing on either the boss or a minion as the case may be.
Once all the players have done their thing, the boss then makes its move, determined not by someone playing as the boss but simply by the order of the cards you draw from its deck. In simplest terms, it is an NPC you have to make moves for.
And then you just keep going until either the boss is out of health or all the heroes are! It's a fairly straightforward game, with the depth and nuance coming from the deck and the moves you make with the cards you draw. Astro Knights can be complex, but ultimately that's all in the RNG and the strategy you and your friends bring to the table.
This is helped along by the expansion pack available for the game, Astro Knights: The Orion System, which adds a new boss and two new heroes, allowing for further twists and variety.
Final Thoughts
Astro Knights is a fun, solid time, albeit one that is mostly boiling down what is normally the culmination of a long quest into a single session. Still, boss fights are fun, and if you've been looking for a way to share an old-school, turn-based boss battle with your friends, or just to try that classic formula out in a new format, you won't go wrong here. If the premise is appealing to you, give it a try! You won't be disappointed.
Astro Knights
Summary
Astro Knights is a game of boiling down a classic and beloved premise, the turn based boss battle, and making it function as a card game. With distinctive art, tried and true mechanics, and just a dollop of lore, it's sure to be a fun time for anyone looking for that sort of thing.
Images courtesy of Indie Boards & Cards
Have strong thoughts about this piece you need to share? Or maybe there's something else on your mind you're wanting to talk about with fellow Fandomentals? Head on over to our Community server to join in the conversation!