So I'll put this up front: Ambition: A Minuet in Power from Joy Manufacturing Co. is Kori's first visual novel game. While I'm aware this has its own history of getting funded via Kickstarter and then being delivered for all to play, I didn't even know this existed until I saw Natalie of Contrapoints doing a live stream of it and realized that it had everything I wanted in a game.
That resulted in my handing over my money via Steam and getting down to business. I will warn you, this game is shockingly easy to get lost in and lose all track of time, as Seher can attest with my 6:40 pm "I got the game, I'm gonna play it!" starting message, ending with radio silence on my end until midnight a la "Holy crap, it's midnight, time is an illusion" coda.
But before I give my verdict, let's take a look at what this game is actually about.
Game Synopsis
A young woman finds herself alone in the streets of Paris, far from home and abandoned by the love of her life. In that moment, she decides to live for herself and seek her own passions, as France marches towards a violent uprising that will change history forever. Navigate the twisting social politics of pre-revolutionary Paris in a game world that's different every time you play. Court, snub and seduce your way to the top of society. Extend your influence, uncover the intrigue of the coming revolution, and ensure that you end up on the winning side of history.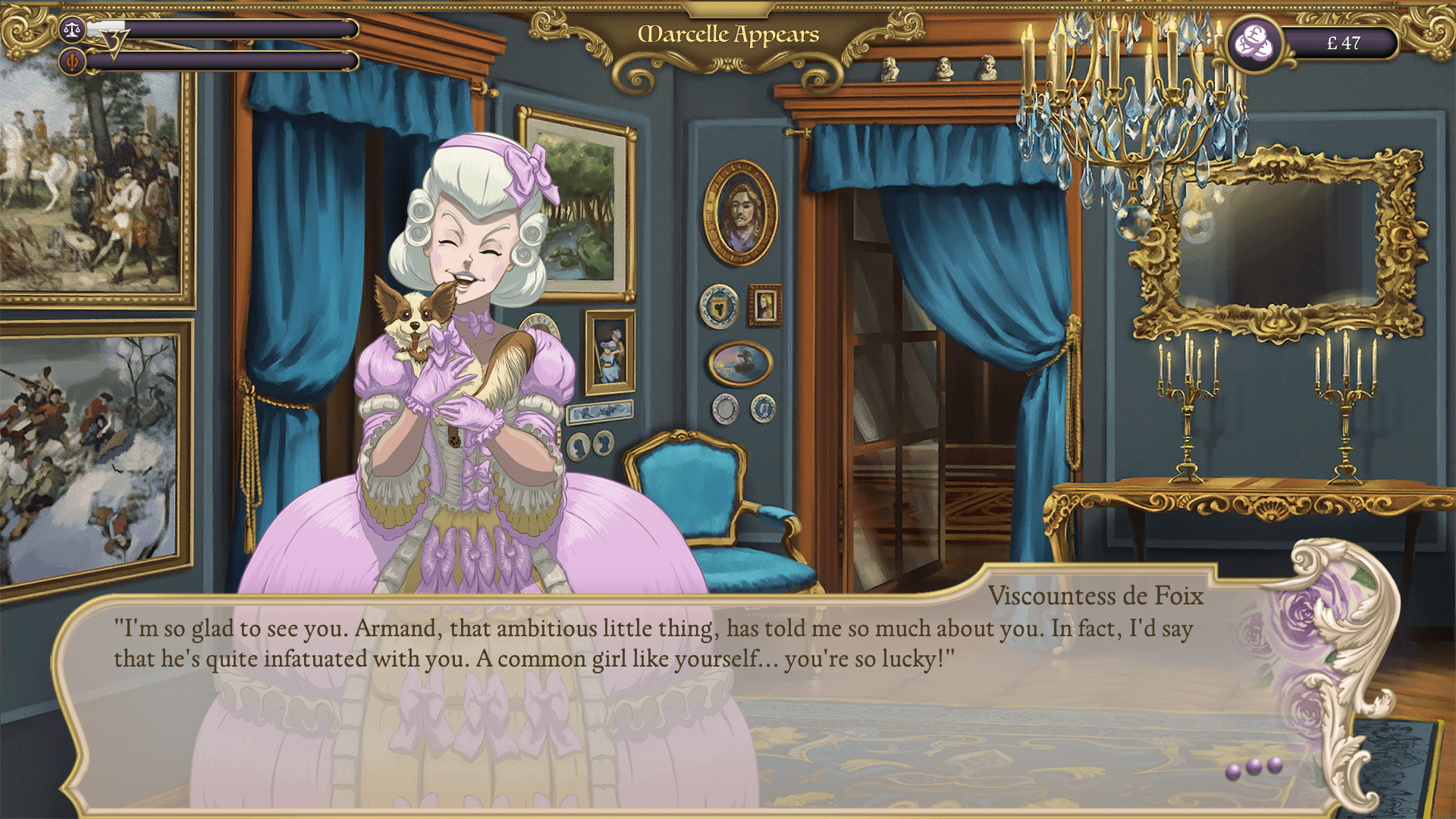 Basically, you, the player, go to Paris to be with your minor aristocratic fiance, Armand, who essentially ghosts you and leaves you to make your own way as a woman on your own in an increasingly volatile political sphere. In fact, your first big invite either has you going to a Revolutionary party or a Crown party (read aristocracy) by yourself to be publicly humiliated by a vindictive host that Armand has rubbed the wrong way.
Lucky for you, if you play your cards right, you'll become a semi-scandalous sensation and receive more event invitations than you know what to do with. That means going to the dressmaker for appropriate outfits (though you should keep in mind that each dress has a novelty value that lowers after every event you wear it to), and using all of that juicy, juicy gossip you pick up at events to sell at a less-than-reputable "journalist" to make your way in Paris. And you'll need that money. When I say Armand ghosted you, he really ghosted you and left you high and dry with a run-down rental home and servants that still need to be paid. The better gossip you get, the more you earn.
Note: You'll be presented with an option to take your revenge on either the Revolutionary or Crown figure that publicly mocked you, and you should absolutely complete that mission or face consequences to your credibility and peril later in the game.
But beware, there are two status bars the player needs to be aware of. Credibility and Peril. The higher your credibility the more likely you are to successfully navigate the invitation events and get that sweet gossip. However, if you make a social mistake, or find yourself in a more dangerous scenario mission, say, you're breaking in to steal blackmail material or find out what the hell your erstwhile fiance has been up to, then your peril increases. If that goes too high, well, you probably won't like what happens.
You have the opportunity to initiate friendships or more intimate relationships with a range of characters as well, from all of the different social groups you receive those invites from: Military, Crown, Revolutionary, the Church, and the Bourgeoisie. Ambition also provides two same-sex potential love interests as well, if you're so inclined. Yes, you COULD also forgive Armand and get involved with his "middle path" plot and reignite your relationship with him (and also put yourself in the crosshairs of an extremely dangerous woman), but I met with him just long enough to tell him off because BRUH. WTAF?
If you want to pursue these characters, you can meet and talk with them at events, or go see them in the town on days you don't have an event scheduled. Beware, too many days without a rest at home will affect how well you perform at events.
As you play, the political situation becomes even dicier and you'll have to tread carefully between revolutionary or royalist support. Or, if you want to be more hands-on, you can even peddle gossip for influence with any of the aforementioned groups to sway them to one side or the other, instead of selling it for coin.
Verdict
This game is fun as hell. A little confusing at times, but it does provide for several rounds of gameplay with all of the various options and endings available.
If I had one gripe, it was that for as detailed as they try to make the tutorial, they somehow completely forgot to tell the player that they're able to, once they have enough credibility with a character, invite them on a private rendezvous. Nor is this information easy to find. I spent a good 20 minutes googling how to before I finally found another blog that explained it.
My initial playthrough had the goal of supporting the Revolution and hooking up with the Catholic priest. Don't judge me.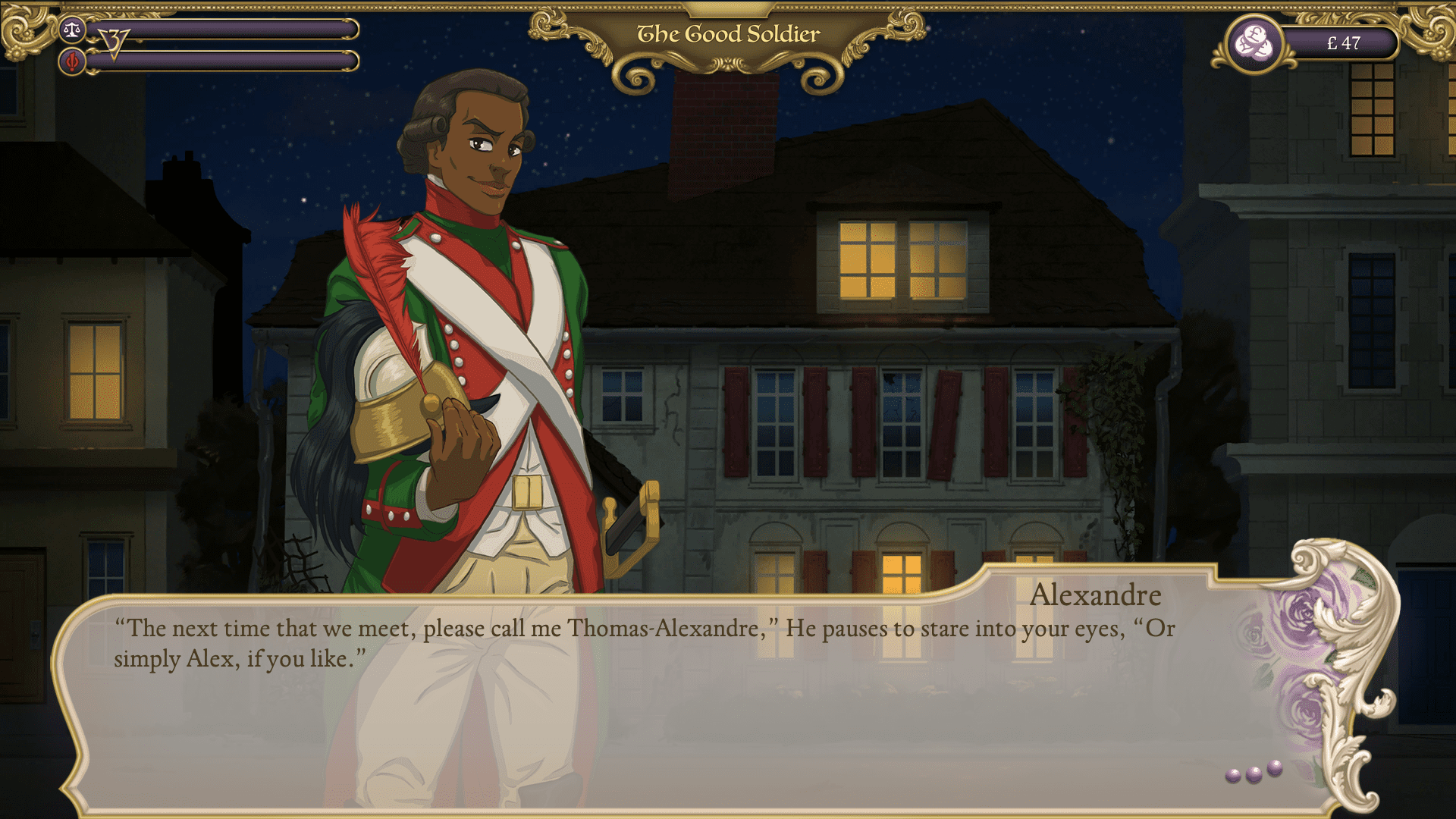 Whatever I'd intended, my gameplay ended with the Crown coming out victorious and executing all of the Revolutionary figures, and myself being put on trial for treason (Spoiler: thanks in large part to aforementioned dangerous woman Armand was running around with). Luckily, I paid attention to my status bars and kept my credibility maxed out and my peril very, very low; thus I was able to keep my head.
As far as the priest? Well, we became very good friends, but I wound up living happily ever after with a widowed Bourgeoisie dominatrix sugar mama, so. Not what I was planning, but I can't exactly say I'm disappointed!
Overall, Ambition: A Minuet in Power is a very engaging game if you like options for romance (and wlw romance to boot!), intrigue, and immersive history, and it's at an incredibly reasonable price for $19.99. Would definitely recommend.
Ambition: A Minuet in Power is available on Steam, Humble Bundle, and GOG.
Images courtesy of Joy Manufacturing Co., Iceberg Interactive
Have strong thoughts about this piece you need to share? Or maybe there's something else on your mind you're wanting to talk about with fellow Fandomentals? Head on over to our Community server to join in the conversation!
Ambition: A Minuet in Power
Summary
An engaging, incredibly immersive game experience that history lovers, intrigue lovers, and anyone else who loves fun gameplay will enjoy.