I'm not sure if you would be able to tell from the fact that you're reading this right now, but I'm a writer. When I'm not nose-deep in a gaming piece or editing a podcast, I try to find time to actually work on writing books. Crazy, I know! I even have a damned degree in it! So when a game comes out that ties into writing or storytelling, no matter how shallow that connection is, my ears perk up a little. Enter Allegory, a new card drafting game from Calliope that has players compete as authors trying to write a "literary classic for the ages." I jumped on it immediately, and the folks at Calliope were nice enough to send me a copy to check out! What sort of tale does it tell? Let's find out!
What's In The Box?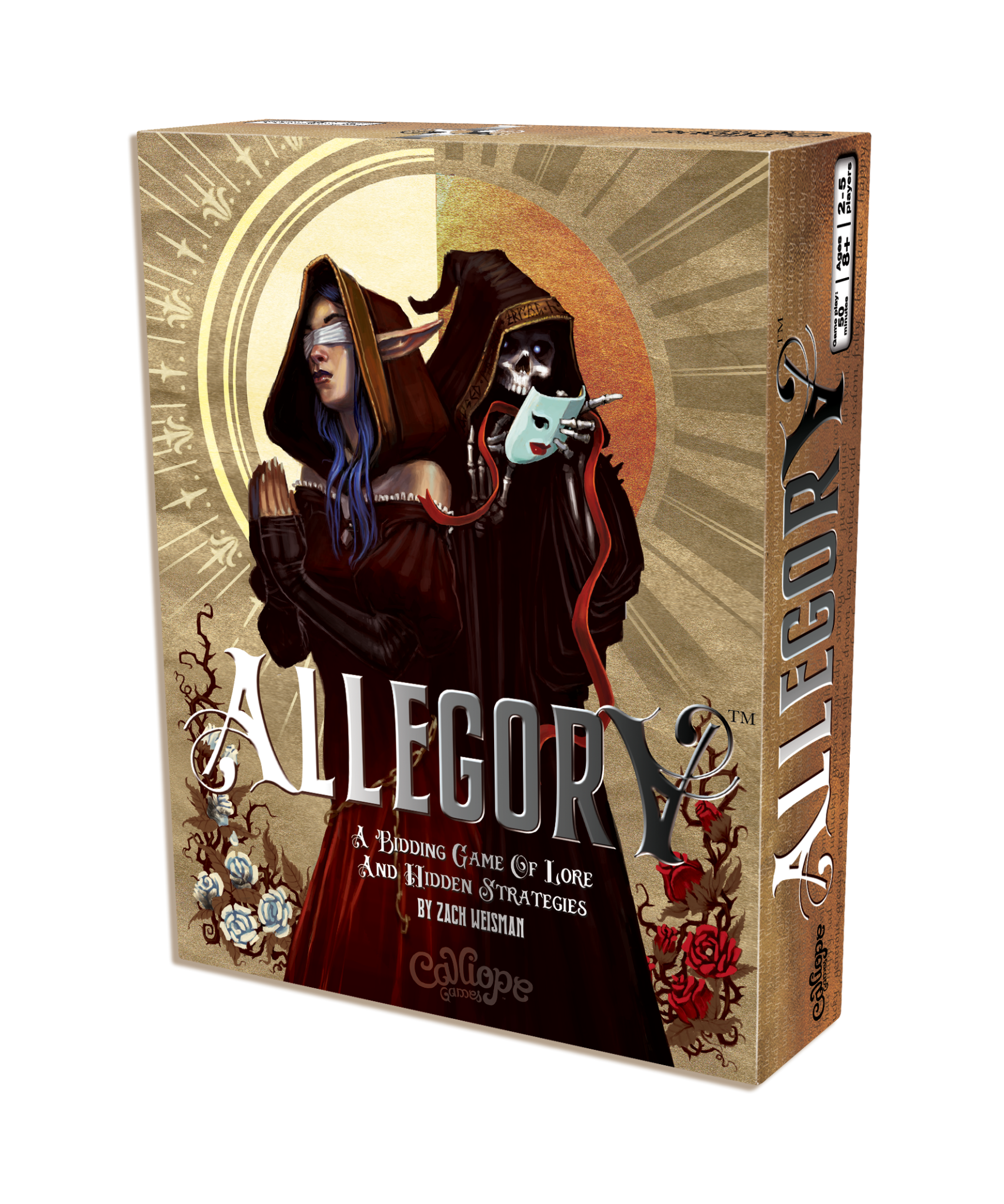 63 Theme cards
18 Moral cards
90 Lore chips
6 Rest markers
Rulebook
This is always a hard section when it comes to card games since, well, there's never that much to them. I was shocked upon opening to see just how much quality Calliope was able to stick into a game that doesn't have a ludicrous price tag ($25). Everything is made out of very sturdy material, and the perfectly shaped insert is even lined with felt to give an extra level of class and visual appeal. The cards, which are always the make or break with games like this, are probably the highlight of the game just because David Cornish's art is that gorgeous. Seriously, this is pretty much a game you play for the pretty artwork and there's really nothing wrong with that. Each card is basically a "face" card depicting a character in a what I would call their "light" form and then their "dark" form. The cards don't really give you any indication behind their meaning, leaving plenty of room for you to fill in your own blanks as you build your "story. The whole game has a sort of dark baroque atmosphere that I'm absolutely in love with, and I'd love to see a proper Allegory themed deck of playing cards from Cornish.
How's It Play?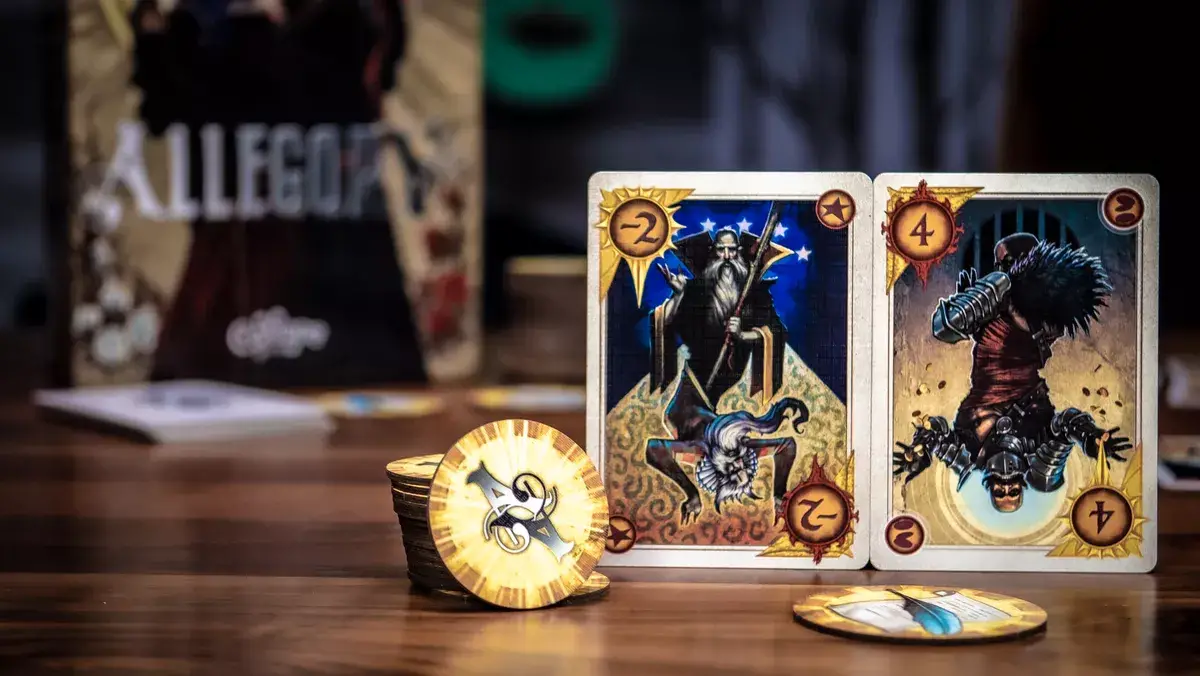 An interesting twist in the game is the fact that there isn't a "pot" like in other card games. Once players are done betting, the winner distributes the chips they bet around the available themes. This gives them the ability to focus attention around certain cards or, again, forcing opponents into errors. And if you don't win, or tap out early because of betting, you take the card with the most chips on it as a consolation prize. Players also have special "moral" cards which give them some small guidance when it comes to choices…at least in the early game.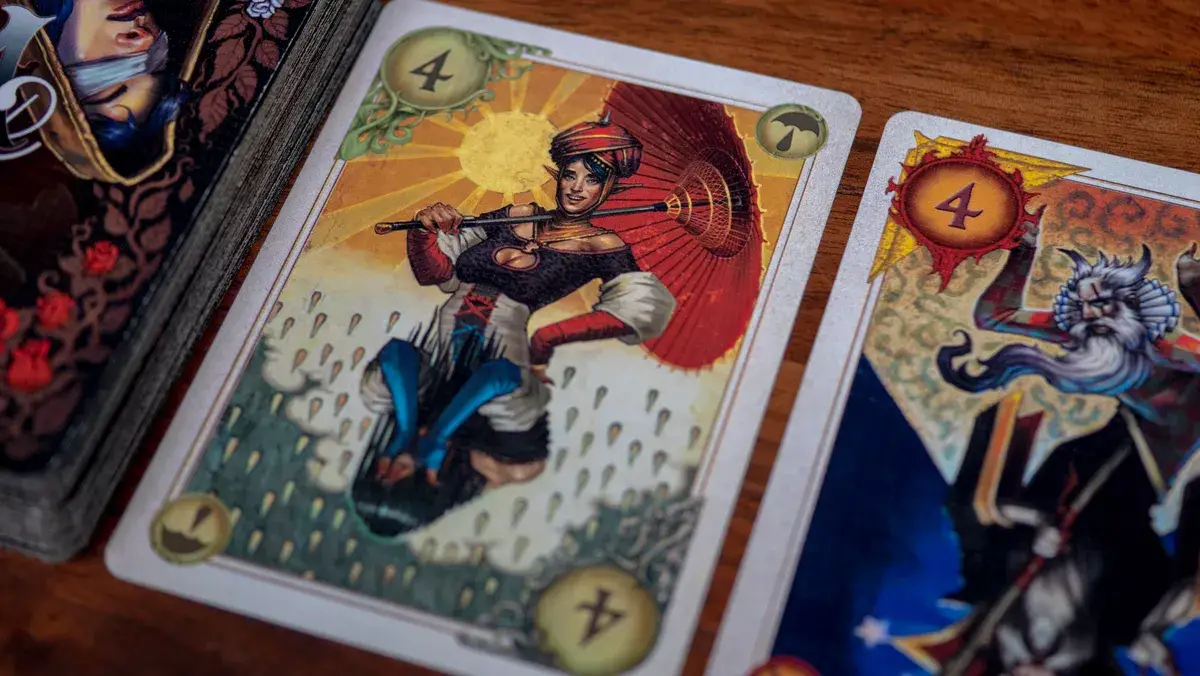 Gameplay in Allegory ends after ten rounds, at which point players get points for their tales in each column, any sets of three cards with the same Theme in the top right corner, and for the cards in the tableau that match up to their Moral. Morals only give you about three extra points maximum but can be a great decider nonetheless. Interestingly, it is the lowest tale that counts at the end which means you can't load up on one and let the others rot.
The Verdict?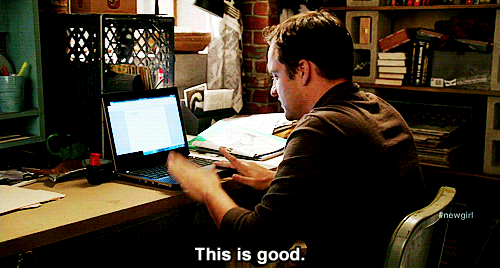 There's a rule I have when I evaluate card games, and it's pretty simple: does this do something that regular card games don't have. When you get down to it, every card game is really just "hey what if we took poker/euchre/go fish and added a TWIST." Luckily, Allegory doesn't feel like that. It melds a couple different mechanics together very well while adding in some little innovations to help it seem fresh. The focus of these changes is on something that some games struggle with, and that's player interaction. The betting feels like you'd expect, but it's not quite as hectic since the winner doesn't actually take all. You've got to really think about if the choice you're making is the right one.
The one downfall to the game I can see is that it's not…quite as effective at lower player counts, particularly two. It lends itself well to parties or for an after-dinner game, but it's not something that really works with only two players. Because of the way resting works (taking whatever has the most chips on it), the power balance shifts quite a bit in a two-player game since one person can just rest on their first turn and grab a card while forcing the other person to take one without betting anything. Not every turn was like this and we still had a good little game going, but the power play also stayed in effect and was hard to get past.
[rwp_box id="0″]
Allegory drops this July on the Calliope Games store and your FLGS, where it'll retail for $25.00. For a full playthrough, check out Bebo's video here.
Images via Calliope Games
Have strong thoughts about this piece you need to share? Or maybe there's something else on your mind you're wanting to talk about with fellow Fandomentals? Head on over to our Community server to join in the conversation!