After Oil Webseries Offers Mystery, Corruption, and LGBT Protagonists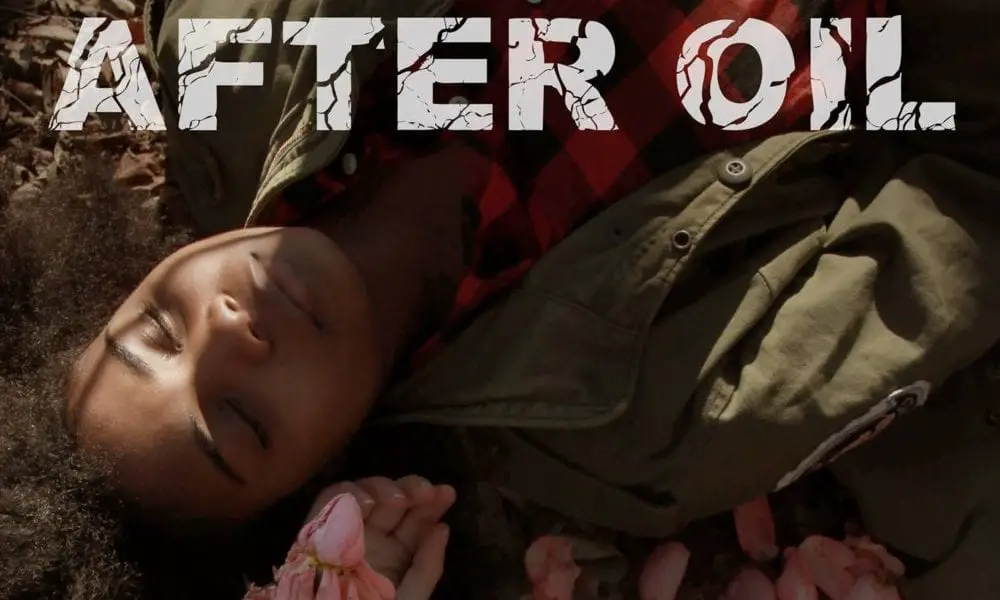 As much as we like to dissect, berate, and praise popular media here on the Fandomentals, every now and again we get the joy of offering a first look at something new. We don't often get to break news or highlight our contributors, either. So it is with great pleasure that we announce that two of our very own contributing writers—Jessica Naftaly and Shailyn Cotten—have developed an original web series called After Oil.
Premiering this past weekend, May 6th, at the 28th Annual Dusty Film Festival, After Oil follows the story of Briar Dunlap. In the last five years, a global oil crisis that has sunk Briar's small Appalachian town into a desperate fight for survival. Needing to help, she and her friends deliver food and rations to their neighbors on bike, forming a gang called the "Pahokee Riders". When one of her youngest Riders goes missing, Briar and her girlfriend Sarah's fervent search for their friend uncovers a dark secret. Corruption lurks in their small town. A corruption that involves not only the police department but a corporate oil company intent on drilling their land dry.
Check out the teaser trailer here (and if you're feeling really nice, go watch it on Youtube as well to give them the views).
We've talked before about how stories matter. Marginalized communities have to fight tooth and nail for well written, engaging, and nuanced representation. One of the solutions is the creation of our own original content, which is becoming more and more common. Stories written by and about marginalized communities like women of color and LGBT+ persons are increasing as more creators opt out of traditional methods. Web series in particular offer a unique way to reach an underrepresented audience. Shows like Couple-ish, The Fosters, Carmilla, Inconceivable, and, now, After Oil, showcase just how interesting and engaging a web series made by and about LGBT+ characters can be.
You can meet the cast, learn out about the production, and find links to support their work on their website: www.afteroilseries.com. Or, check out their Facebook page and Twitter for updates, news, and other information.
So whether you're an LGBT+ person yourself or an ally, check out After Oil. It will be premiering online this coming weekend, May 12th.*
*Editor's Note: Due to changes in production schedule, online release has been delayed until mid-May. To keep to date with information regarding online release, please refer to their website and Facebook. Thank you.*
---
All Images and Video Courtesy of After Oil
Queer Eye Isn't Just for the Straight Guy Anymore
So have y'all heard? I'm finally back after my months' long hiatus—and so is Queer Eye for the Straight Guy! Sort of…
Netflix's reboot of Bravo's cultural juggernaut is now simply Queer Eye, and, as the catchphrase says, it's about more than just a makeover. With a new cast and new trails to blaze, the new Fab 5 tour the Atlanta metro area offering makeovers and life advice for more than just poor schlubs with bad beards.
For those needing a history lesson, the original Queer Eye for the Straight Guy (QEftSG) premiered on Bravo in 2003 and ran for 5 seasons. Though the cast changed a little, the original "Fab 5" are generally cited as Ted Allen, Carson Kressley, Thom Filicia, Kyan Douglas, and Jai Rodriguez. Basically a straight guy was nominated (usually by his desperate girlfriend or wife) to get a "queer eye" makeover: the Gays know food, fashion, decorating, grooming, and culture, right?? Let's bring it to the Straights!
While the show was immensely popular almost overnight, it did of course earn some criticism, especially from the LGBT community. First of all, without setting off any debates, the word queer is deeply controversial. Some people consider it a slur that should be put to rest, while others proudly use it as a reclaimed term. Whatever your POV on that subject, many believe it iffy to give everyone and their brother the idea that they can throw a word like that around willy nilly. It's a sensitive topic.
Also, of course, there are a lot of stereotypes the original (and the reboot) reinforce. Oh you're gay! Of course you know how to dress and decorate your apartment! Again, not to start something, but stereotypes are stereotypes for a reason. Whatever else it did, the original Queer Eye reinforced the GOOD stereotypes, not the bad ones, and it helped put to rest (for some people, anyway) the idea of the "predatory gay."
Meet the New Boys…
The reboot follows the same formula as the original, with 5 bright and chirpy (Ted Allen, chirpy??) gay men, each representing a "category" that needs a makeover: food, fashion, interior design, grooming, and culture.
In the original, the culture category always reminded me of "Heart" from Captain Planet. How is "Heart" an element? How do you make over someone's "culture?" The main thing I remember from QEftSG is that Billy Joel is lame and it's important to make eye contact when shaking hands.
Sorry, I digress. We'll get to Karamo later.
If you compare the pic of the original group to this new one, I think you'll notice something. The first Fab 5 were a great group of guys, but only one of them is brown. It's not exactly a diverse selection. The new cast includes a Black man and a Muslim (who's married to a Mormon), and it's refreshing to see more than just the cookie cutter cute white boy.
I'm not going to get into some sort of ranking thing here, because that annoys the beejeezus outta me. I love them all, okay!? Each episode focuses on some aspect of one of the guys' stories: Bobby and his religious upbringing, Karamo's struggle as a gay Black man, Jonathan's small town upbringing, Antoni's love of avocados, or Tan's need to bring the French tuck to the wider world; and as such they've all earned a solid place in my heart.
Obviously those last two are tongue-in-cheek, but I don't want to get too heavily into it since this is just a general overview. Look for season 2 episode breakdowns starting next week.
More Like a Glow Up
A glow up and a makeover are basically the same thing, aren't they? And a makeover is a makeover is a makeover, right? I mean, someone's nominated, they get swept up into a whirlwind of "I can't believe you WEAR this!" and after some fighting about it, they emerge at the end with a whole new look, right?
Right??
Except Tom up there doesn't look that different. Sure, his beard's shorter, but overall he looks like himself…just polished a bit.
That, to me, is what sets Queer Eye apart from other makeover shows—even its gay dad, the original QEftSG. The boys don't try to make the contestants (or "Heroes," as they call them) into someone else. They accept each person's style as his (or her) own and just give them a nice glow up. Queer Eye is never about tearing down, only about building up.
One thing you'll notice in the two promo images above: the "straight guy" looks pretty terrified to be surrounded by the Fab 5 in the first one, but in the second one he's clearly engaged in the process and much more comfortable. Yeah, this group has to deal with some bullshit (Tan was asked by at least two Heroes if he's a terrorist), but it's a different culture now, and the idea of wearing pink or patterns doesn't seem to be as terrifying to the average Joe as it was in 2003.
More than a Makeover
I don't want y'all to think I have something against the term "makeover," because this headline is lifted directly from the show's tagline. And it is much more than a makeover show. Episode 1 has a man who basically thinks he's too old to be attractive anymore, and he starts off telling the boys "you can't fix ugly." Over the course of 45 minutes you see him blossom again (not to sound cheesy) and realize that life ain't over till you're dead, and ugly is pretty much just a state of mind.
Episode 3's Hero is a Trump-supporting cop (!!) who ends up connecting with Karamo over the importance of the Black Lives Matter movement. Episode 4 is about a gay Black man who's struggling to come out to his stepmother. While every episode has made me cry a little bit over something, hearing the boys' coming out stories and seeing AJ read a letter to his dead father in front of his stepmother as his coming out had me bawling.
Some episodes are better than others, obviously. None in season 1 really dragged me down, though as I flip through the episode list on Netflix I don't remember much about episode 5. Except that's where we first learned about Bobby's religious upbringing, and how hard it was on him to be rejected by the church he loved for being gay.
Hang on sorry I need a tissue…
Where Have You BEEN??
But none of this is news to y'all, because you've all devoured both seasons of Queer Eye like starving lions on the savanna. Or, I mean, if you haven't, it's in your queue. Just waiting for a quiet weekend when you can mainline all 16 episodes.
Otherwise what are we even DOING here?! In a world where grimdark rules the day and every new headline makes you want to rip out your hair, why are you letting a gem like Queer Eye go unwatched?! Why are you letting all that beautiful positivity pass you by??
In case I'm not expressing myself clearly enough, Queer Eye is a show you NEED to watch. Ration it, despite what I said above. Sure it's re-watchable, but nothing beats the feeling of the first time you hear a Karamo Pep Talk or seeing the Hero's face light up from something as simple as a pair of pants that fits.
This show, like I said before, is about telling people it's okay to take care of yourself. It's okay to be confident and do traditionally "feminine" things (like moisturize). Also the focus on "dress up for your woman; make her proud that you're with her" is so great because how often do we hear that we have a to dress for a man? Men rarely put in any effort toward that on their wife/girlfriend's behalf, and the message that hey!! Women want that too!! And it's a good thing to do!! Is so important.
Antoni shows them it's okay to cook. Bobby reminds them that they deserve nice surroundings. Karamo helps give them confidence to take on their challenges. Tan helps them merge their individual style with an updated, modern look. Jonathan teaches them how to make their outsides match their insides.
Basically…
Watch Queer Eye, y'all. Warm your heart. Cry a lot. Refresh your soul.
You won't regret it.
---
Images curtesy of Netflix and Bravo
Creator Corner: An Interview with the Team Behind BIFL
We need more original content from queer creators! I hear that a lot around the interwebs, well, the places where I hang out at least. The popularity of #ownvoice in the publishing industry speaks to this trend. Since big name corporations and franchises tend to do us queer fans dirty in visual media, looking to queer creators to fill that gap makes sense. Bringing attention to these creators is part of my goal as both a media critic and an original content creator myself.
For this edition of Creator Corner, I bring you the creative team behind the up and coming new web series BIFL: writer Kelsey O'Regan, director Daren Taylor, and creative producer Amber Rivera. Their crowdfunding campaign officially begins today, so I (metaphorically) sat down with them to talk about the series—where it came from, what it means, and what's up next.
Gretchen: So, tell me about where BIFL came from. How did each of you get involved? Was one of you the instigator?
Kelsey: I started writing it way back in 2015 with no plan of action aside from getting the story down—I just kept revising and rewriting and editing, showing it to friends, and ruining everyone's life with feelings. Then one day I got a text from Amber that she wanted to show her creative friends the script, and suddenly things were in motion.
Amber: Middle of last year I was part of a group email from Kelsey and it asked if we would be able to give her feedback on her script. It was basically her final draft, and when I read it, I couldn't put it down. My wife literally heard me laugh out loud numerous times. After that, I contacted Kelsey and asked what she wanted to do with it. She said: anything. I just want to put something out there. So, I contacted my friend Daren Taylor, who's the director of our series, and asked his thoughts. I think it's safe to say he liked it!
Daren: Amber and I had been working on developing new projects after we finished working on a short film about a year and a half ago. I encouraged her to find a story that was close to her heart that she felt like she could commit to long term, because independently producing something can take time. And then she remembered Kelsey and BIFL, got me a script and I fell in love.
G: This very much feels like a labor of love. Where did the story come from? What was the inspiration?
Daren: That's all Kelsey. She's been working on this for years and it shows. The characters are so deep and rich and unique that all you can do is gush over them and want to spend more time with them. When the writing and characters are this good, it makes producing and directing that much easier.
Kelsey: It very, very, very much is a labor of love. The story kind of came out of nowhere—I'd accidentally written this 25,000 word fanfic that hyperfocused on a particular supporting character and the really specific struggle I decided to give her (anxiety). I got a handful of comments from people who connected strongly with that arc and appreciated the representation. NaNoWriMo came around shortly afterward, so I took the bare-bones plot of the fic (which was already far removed from its canon) and changed the context, fleshed out the characters, and adjusted things here and there until I had a very cool and very different kind of story. What's hilarious is I didn't actually follow through with NaNoWriMo that year, but my filmmaker friend Karyn Ben Singer invited me to script-supervise for her feature Probable Robot, and I came home obsessed with scripts; between that new itch and my obsession with Carmilla at the time, the web series concept started brewing.
G: With all the storytelling possibilities out there, what made you all want to make a webseries?
Daren: We had a lot of discussion about what's the best method of sharing this story, and Kelsey had webseries in mind from the beginning. She's written over 180 pages of BIFL, and we are only shooting about 60 pages of it. We did contemplate doing it as a single pilot, but we miss out on spending time with these characters over time. It's that repetition of coming over multiple episodes that we think that that affinity for Jill, Chloe, Sarah, Taylor, Oliver and Kyle, will really stick. People will get hooked, and then clamor for the rest of the story.
Kelsey: For me, it's a combination of opportunity and accessibility. It's not like I can just walk up to MTV or HBO and hand them the script, but I also love that we don't need TV's or cable subscriptions to consume our favorite media. In general, web series also feel more grassroots to me and give us a thousand times more creative control. I'm into that.
Amber: Exactly! For the sake of wanting to keep the heart and soul of the project intact throughout the process of creation, we wanted to do this ourselves. We wanted to be the ones creating the representation we deserve and do to that, we felt that creating a web series to start was the best way.
G: What are the biggest challenges you've faced thus far in trying to create an original, inclusive web series?
Amber: For me personally, it's the waiting game we played for a little bit. At least for Daren and I, we each were working on different projects and wanted to make sure we allowed for time to do this project the right way and not half-assed. Besides that, I think going through the casting process has been slightly difficult for me because there are so many great auditions! You can't have everyone though, unfortunately.
Daren: So far, I'd say the biggest challenge for me has been working on how best to talk about the show. With any project, there's what it means to you as a creator, then it's about how to communicate that with your audience. What's going to get people engaged in the same way we are. Thankfully, we have a wonderful producing team and I feel like we've worked really well together to find creative and exciting ways to bring people on board to BIFL, a comedy with a LOT of drama.
Kelsey: I mean, I am but a white cis bi female, so any story I tell outside of those identities runs the risk of being either Too Much or lacking depth. Throughout the writing process, I've made a point to seek out close friends with those experiences and perspectives so they can tell me what works, what doesn't, and how to make everything better and more authentic. The last thing I want is to sell my story as inclusive and then find out that I totally messed up a particular identity or conversation, so this whole process has been largely about acknowledging my good intentions while also understanding and dealing with my limitations.
G: What have been the greatest 'aha!' or otherwise exciting moments thus far?
Daren: It really been people's enthusiasm about what BIFL means. It's not just a web series, but a gathering point for a number of individuals. We are creating community around this project. We get to actually commit to making a difference, and that's been a bigger lighting rod than I previously expected. Seeing how responsive friends and family have been to us taking control of the stories we want to tell, and inviting people to feel like they not only have a voice, but a group of artists that are dedicated to more diversity and inclusion has been really uplifting and energizing.
Kelsey: Without a doubt, watching the table read footage. My friends at TGIFemslash helped me arrange a reading years ago when the story was in its very early stages, and that was amazing, but this was professional actors reading off a much better version of the script. They may have just been sitting around Daren's living room together, but they were performing my words I wrote, and that was the best feeling.
Amber: Finding our "Sarah." My wife and I were at ClexaCon this year, and we were watching the "LGBTQ Actresses in Media" panel, and we saw an actor named Mandahla Rose. It just hit us. She was the one. Her look, her attitude, and because she's a queer actress who wanted to continue to play a queer character, she was perfect. We looked at her reel and other projects she'd been in, and it all fell into place after that. We were able to contact her, talk about the project, and she was in. It was so great and satisfying to see how excited she was to be a part of the project.
G: Speaking of what BIFL means, I have to ask, what does the name BIFL actually mean? Is it an acronym or…?
Amber: You'll have to wait and see! We'll actually be putting out a video on our campaign page as well as on social media that will be a fun little game of people guessing what BIFL stands for. Maybe someone will guess it! 🙂
Kelsey: [Redacted for Spoilers].
Daren: Oh, we can't give that away yet. What do you think BIFL stands for?
G: Well, I didn't have any idea until Kelsey told me for her part of the interview, but I won't give it away, I promise. All I can say is, I wouldn't have guessed it, and I'm looking forward to seeing what other people guess!
 Moving on, I know at least one of you is a part of the queer community, how has your experience being a part of that community shaped the story you wanted to tell with BIFL?
Kelsey: Oh, it's been everything. I started writing in 2015 because I wanted to, but then in March of 2016 I realized I needed to—either the shows I love didn't have enough or quality rep, or the shows that did have great rep weren't telling the stories I was interested in, and I was honestly just sick of being expected to choose between those categories. And the great thing about femslash fandom and wlw viewers in general is we spell out our expectations quite clearly—all you have to do is pay attention.
Amber: It's truly been amazing. The biggest thing for me at first was making sure that I had someone who could help Kelsey and I tell this story. And that person was Daren. He has such a way of telling stories for the underrepresented, and he's one of the only ones I trust to tell that kind of story. Like the Carmilla series, Wynonna Earp, and Black Lightning, Kelsey and I wanted BIFL to be the thing where people say, "Hey look, this is what quality representation looks like."
Daren: I've worked in the arts my entire life, and while I'm not queer myself, I have always been an ally. Inclusion matters and it has always been important for me to communicate that. Early on in the process when we discussed what BIFL meant to us, it was important for me to advocate for an expansive audience reach. If we only targeted the queer community with our story and message, then we limit the amount of change we can have. What's beautiful about what Kelsey wrote is that it's a story about people. Period. And any group or individual can access BIFL, and be surprised that characters like this exist, and the artificial separation we create between those that are "different" from is arbitrary and meaningless. We all love and we all are flawed.
G: On the lighter side, I have a challenge for each of you: summarize why people should watch BIFL in one sentence of no more than 20 words.
Daren: If you want to laugh your face off, melt your heart, and support quality queer content, then watch BIFL.
Kelsey: It's my love letter to femslash fandom, and damn good storytelling that happens to also be diverse AF.
Amber: People should watch BIFL because representation matters, and we have lots of it.
G: Tell our readers how best they can support BIFL. You're doing a crowdfunding campaign right? Any other ways they can get involved?
Kelsey: Yes to both! Financial support is great, but sharing the project is equally important. Talk it up on social media, text your friends, tell people in the street—we want our audience to extend as far and wide as possible.
Amber: Absolutely. We are encouraging people to follow us on all social media—Facebook, Twitter, and Instagram, and to share with their friends and anyone they think might like our series. Also, keep an eye out on what we post during the campaign on social media because there may be a few posts where people can get directly involved as well.
Daren: The biggest way to help is to spread the word. Again, BIFL is about building a greater community. Go to our crowdfunding website, donate if you can, then share, share, share! Follow us on social media and stay up to date on everything we have going on. We're blast to be around because we love the story, each other, and the work we are doing. JOIN THE PARTY!!!
G: What happens next? If you reach your goals, when can people expect to start watching?
Amber: Well, ideally we would want to shoot as soon as possible once the campaign ends, but that really depends on schedule availability for cast and crew.
Daren: Making something of this scope will take some time. We'll likely go into production late summer/early fall, so people will start getting teasers later this fall. But we promise to give everyone something to watch along the way as we plan to include everyone in our journey of making BIFL.
Kelsey: As they've both said, we want to start filming as soon as the funds become available. As of right now, the plan is to release the episodes on New Year's 2019.
G: That's soon! I'm excited. Anything else you want to share with us before we go?
Kelsey: Vote in every single election.
Daren: Looking forward to sharing BIFL with everyone. Thanks!
Amber: I just want to say thank you to those who have already reached out and offered to go on this journey with up, and also thank you to those who are going to join the journey during the campaign. We can't wait to share this amazing project with you and hope you all enjoy!
—
Once again, you can find BIFL the series on Facebook, Twitter, and Instagram.
Oh, if you need any further reason to support the series and watch it when it comes out, check out this video from Chyler Leigh, the first person (and a celebrity at that!) to officially endorse BIFL:
First official endorsement for our series from an Extremely. Reliable. Grownup.

Crowdfunding begins June 19th! Thank you @chy_leigh ❤#BIFLsquad #PrideMonth#loveislove #webseries #friends #representationmatters pic.twitter.com/xL2qzySqGj

— BIFL🍾 (@BIFLseries) June 10, 2018
---
Image and Video Courtesy of BIFL
Why you should watch CLAIREvoyant
KindaTV's newest scripted series, CLAIREvoyant just finished its first season and if you haven't seen it yet, you are denying yourself a wonderful, quirky comedy. It's the classic story of two twenty-somethings just figuring themselves out. They are also on the verge of eviction and need a rapid injection of funds to keep a roof over their heads. Their get rich quick scheme? Pretend to be internet psychics and charge by the minute. The twist? One of them might actually be psychic. That is only the beginning of the fun.
If you're familiar with any of KindaTV's other series, Carmilla, All for One and Inhuman Condition to name a few, then you know the channel built on innovative and diverse content. Did you enjoy the supernatural elements of Inhuman Condition? Or All For One's heart-warming and funny coming of age story? Or do you love the Carmilla series which has both those things? Or do you enjoy series with LGBT+ characters? If your answer to any of these questions was yes, then you'll find something in CLAIREvoyant for you.
Here are some of the reasons you need CLAIREvoyant in your life:
Natasha Negovanlis and Annie Briggs are in it!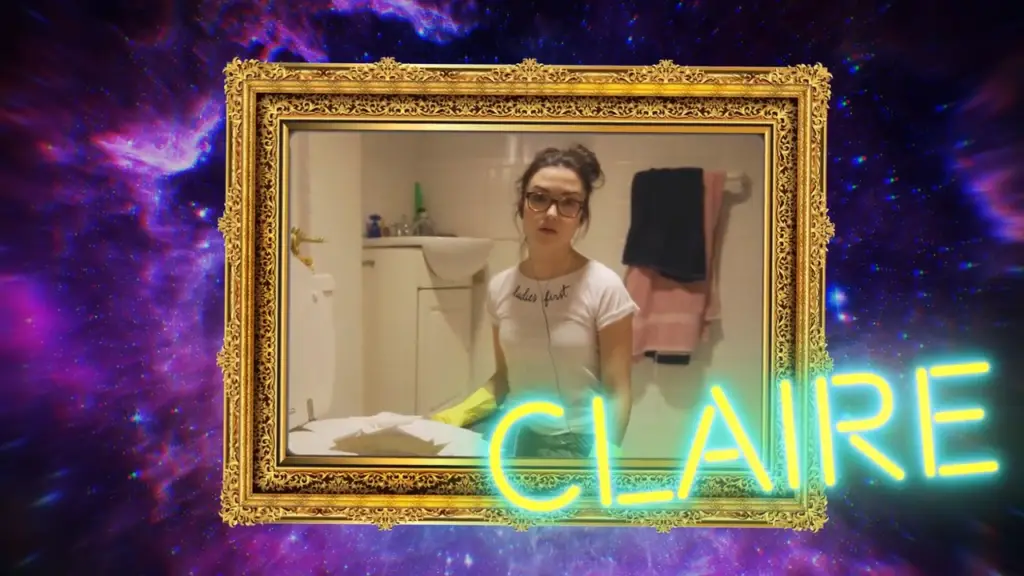 They play zany, loveable roommates who couldn't be more different and yet are each other's platonic soulmates. Briggs is the free-spirited, adventurous Ruby who comes up with the eccentric schemes to solve their problems. She's also the one who usually causes their problems. Negovanlis plays, Claire, the reserved, shy and sensible one.
You may know them as the stars of Carmilla, where they play the brooding lesbian vampire, Carmilla and the high-strung mom of the group, Perry. (If you haven't seen Carmilla, that's two amazing web series that aren't in your life. What are you doing?)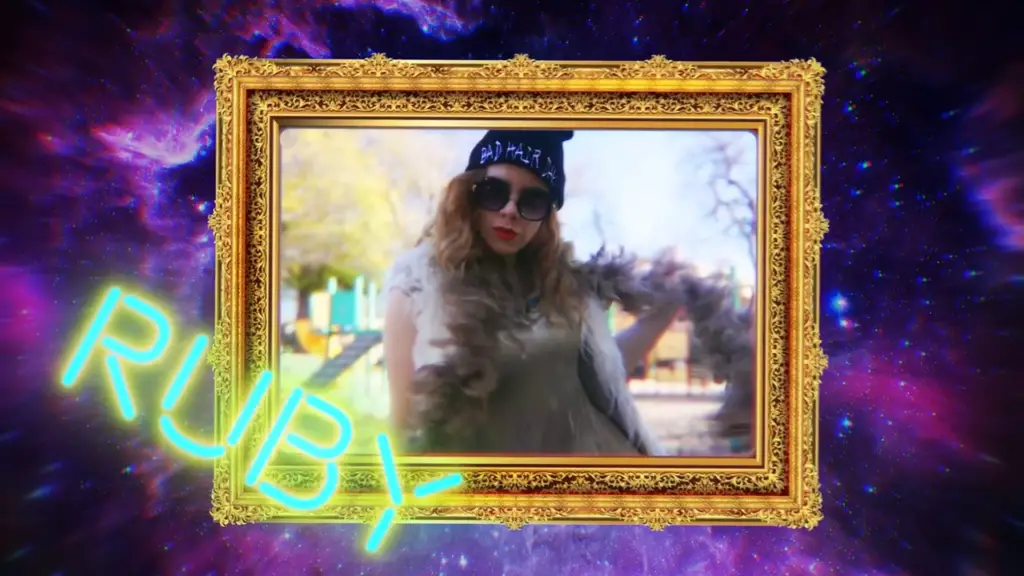 What you may not know is how funny they can be. Sure, Carmilla and Perry, had many humorous moments, that was only a taste of the scope Negovanlis' and Briggs' comedic chops.
Negovanlis has discussed in the past how as an actress she was told she could either be 'pretty'  or  'funny'. But CLAIREvoyant feels like their answer to this, where their characters can be both. They made their leading ladies funny, charming and packed with heart.
Oh, and did I mention this series is the brainchild of Negovanlis and Briggs? Not only do they star in the show, they created, wrote and co-produced the series. Is there anything they can't do?
It's Queer Content produced by Queer Creators.
This is something that could define every series that appears on KindaTV. Negovanlis has always been open about her sexuality and that authenticity comes through in the work. In moments both big and small. Like when Claire nervously practising what she's going to say on a date while she's cutting her nails as she gets ready. It's a moment that's delightful and funny because it's so genuine and relatable.
It's always wonderful to see LGBT+ characters who are written by LGBT+ individuals. Negovanlis portrays Claire with a level of authenticity that would be difficult if not near impossible for someone who doesn't have her experiences.
Also, the other queer character, Nico, is a woman of colour.
It will have you laughing from beginning to end.
Sure, there's drama and romance but CLAIREvoyant is first and foremost a comedy. It's brash, goofy and delightfully campy, pushing the limits without going over the top. Negovanlis and Briggs aren't afraid to ham it up and let themselves look crazy or silly.
Ruby is eccentric and vibrant. She'll have you laughing with her sharp wit and her vivacious dancing. Her partner, Xavier speaks exclusively French, but you don't need to know the language to understand he's just as quirky as Ruby.
Claire is funny because she's ridiculously awkward. At some point, you've probably felt as awkward as she is. Claire is that lesbian who every queer woman will be able to associate with on some level. It's almost painful how relatable she is. She forgets half the English language around her crush and tries to deny her feelings even when it's obvious Nico is flirting back.
Also, be sure to watch with captions on. There are hidden asides that are just as funny as the jokes in the show. But be warned, there is one moment of gross-out humour, so you may want to skip that part if it's not your thing.
Without spoilers here's a quote that, if it doesn't pique your interest enough to watch, nothing will:
 "So cool! I was going to become a mindless drone because of a cheese pie."
All fourteen episodes are currently out on YouTube. With each episode averaging around four minutes, you can binge it in just over an hour. So, what are you waiting for?
---
Images courtesy of KindaTV/Shaftesbury Films.