I'm so excited. For all the wrong reasons.
In about 3 months, we will be able to witness the nightmarish world of the Baudelaire orphans and A Series of Unfortunate Events (ASOUE) that plagues them. Lemony Snicket's findings will be reported through Netflix, and has already caused a schism with the arrival of a controversial teaser. The question remains if it is actually a product of Netflix, because even though they have denied it publicly, the series is full of mysteries and it would only be fitting if the trailer was as well. If it is, the marketing is fabulous.
Anywho, I find that it's only appropriate that a reread should be underway! Although I do wonder if that is a good idea…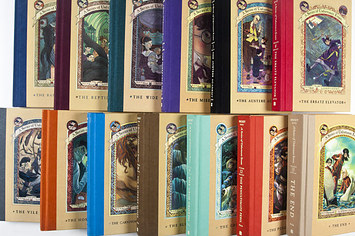 It's been about a full decade since I have touched the series, and just about as long since I have seen the movie. The latter is probably for good reason, but I may need to go back and watch that as well, especially after reading the first few installments. I grew to not dislike it as much if I remember correctly, although I was still pretty peeved about its attempt at adaptation as a whole.
If we were in a position to ask my mother about how in love I was with ASOUE, she would tell you that I was obsessed, and probably roll her eyes and attempt to find how many series related objects I still have to show you. I dragged my friends into it, and they only made it worse as we theorized. Had the series continued filmwise, I'm not sure if I would have continued, but I would have tried my damnedest. I owned the video game and even collected the little newspaper snippets that they used as film promotions in Lunchables packs, although they are long gone. Even now I still admire certain series elements- I'm looking to get a few tattoos in some pinpointed places.
When I was young, the series served as a wonderful escape for me, not only because I was in elementary/middle school at the time, and quite the unpopular one, but it struck me how the children handled the circumstances they were constantly having to adapt to, which made me want to adapt. The Baudelaires' combined intelligence and bond was remarkable, at least in my 10-12 year old mind. ASOUE had an odd effect of making you feel less alone, especially with some of the not so pleasant feelings you'd experience in youth. And I'm excited to explore that once again. Daniel Handler's- I mean, Mr. Snicket's handling of children's mystery compelled throughout, and pulled me in each time. Plus, I still smile a bit whenever I see or hear the word "voracious".
I know that my impressions of the series will change, but I'm mostly wondering how drastically. There's a bit of fear attached to detaching from my favorite series. I have no doubt that the intrigue will continue, however, especially with Snicket's release of All the Wrong Questions. I've already re-read The Bad Beginning, and I'm seeing many things that I entirely missed when I was younger, mostly through a lack of knowledge. Of course some themes that I loved as a child may be less entertaining adult but I am only hoping my mind is open enough to embrace both sides. As a child, I had a basic understanding of the series' events, both good and unfortunate, but I'm already seeing a much darker (yet fresh) perspective, as Lemony Snicket provided some deeper layers for the older young adults as well.
And of course, I would love to know what you think if you decide to join this reread (or have taken it upon yourself already)! Let the unfortunate undertaking begin.
Images Courtesy of Netflix and HarperCollins