The effects of Kickstarter's controversial embrace of the blockchain continue to ripple out as one of the most successful indie TTRPG companies on the platform moves to IndieGogo for their next project. Late yesterday evening, Possum Creek Games announced that their next release, Yazeba's Bed & Breakfast, will launch on IndieGogo later this year. The move represents one of the biggest responses in the Indie TTRPG world to Kickstarter's changes, as Possum Creek's previous release Wanderhome raised $300,000 dollars on Kickstarter and was one of the biggest hits of 2021.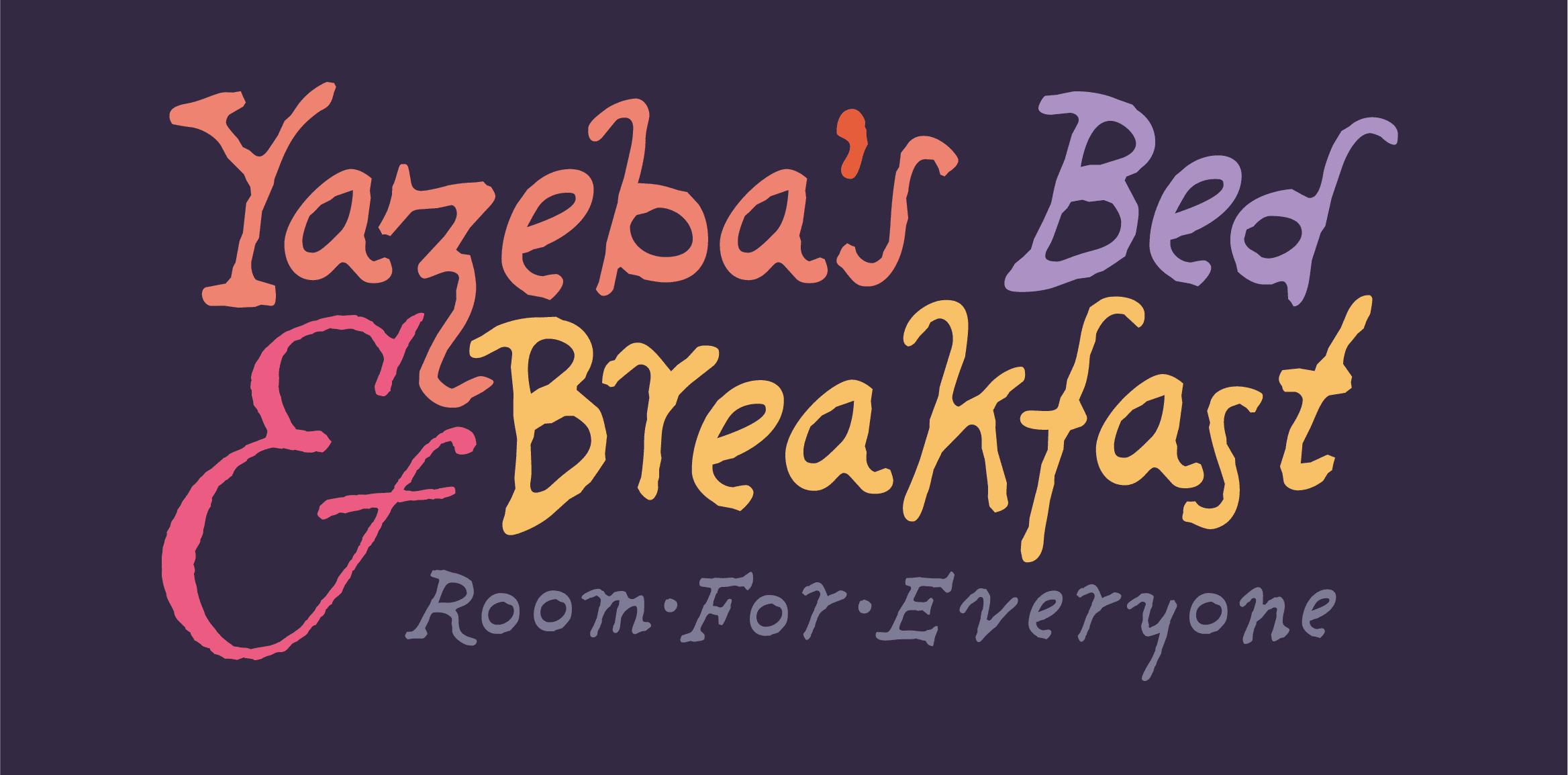 From the publisher's description: Yazeba's Bed & Breakfast is a slice-of-life tabletop role-playing game set at a beautiful Bed & Breakfast deep in the woods, where mischief and magic govern. In Yazeba's Bed & Breakfast, you can go fishing for extinct isopods, help a giant frog make breakfast, explore the mysterious darkness of the deepest basements, and name all the constellations in the sky. Yazeba's Bed & Breakfast uses legacy mechanics, stickers, and hidden secrets to create a role-playing experience unlike any seen before. Befriend the core cast of residents—engaging characters like the trans teenage runaway Gertrude, the devil child Hey Kid, the frog-cursed chef Parish, the heartless witch Yazeba, or many more—and explore scenarios full of adventure, excitement, mystery and heart. Every time your group completes a chapter, the book reveals even more to you, giving you new worlds to explore and new depths to your characters.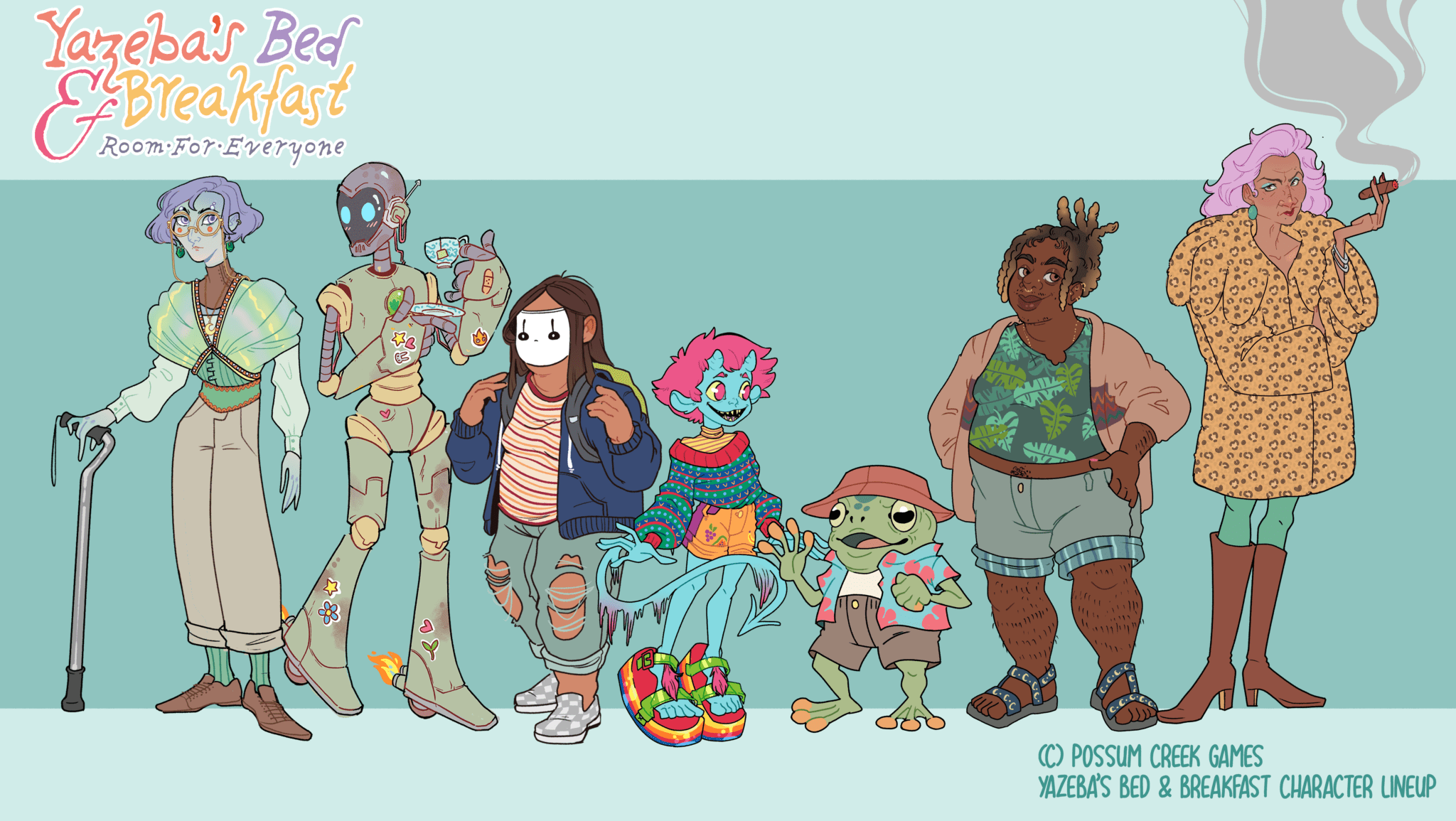 In addition to the seven Residents in the book, there are also more than fifty Guests, characters who rotate in and out of the Bed & Breakfast as we play. They include (but are by no means limited to) Rag-And-Bones the particularly unpleasant skeleton, Alex Dullaghan the headless biker butch, Dog Dog N'Dog the three-headed puppy from hell, and many many more. Have you ever wanted to play as a mushroom baby, the Stag of the Great Hunt, or an entire Lilliputian circus? All of that and more is possible in Yazeba's Bed & Breakfast. 
Each Chapter in Yazeba's Bed & Breakfast introduces the rules-lite framework that accompanies the scenario, along with charming in-character prose setting the stage. There are bespoke mechanics for tossing laundry in the hamper, planting squash in the garden, exploring the basement, naming constellations, and plenty more. These mechanics are simple and modular, meaning you only need to know the rules for the Chapter in front of you. It can take as little as 15 minutes to start playing Yazeba's Bed & Breakfast, and once you start the 50+ chapters included in the book give you plenty of new directions to go in. We've spent months playtesting and working with our developmental consultant Avery Alder to make sure the game is as easy as possible for new players to step into, while still offering incredible spaces of exploration for the more experienced player.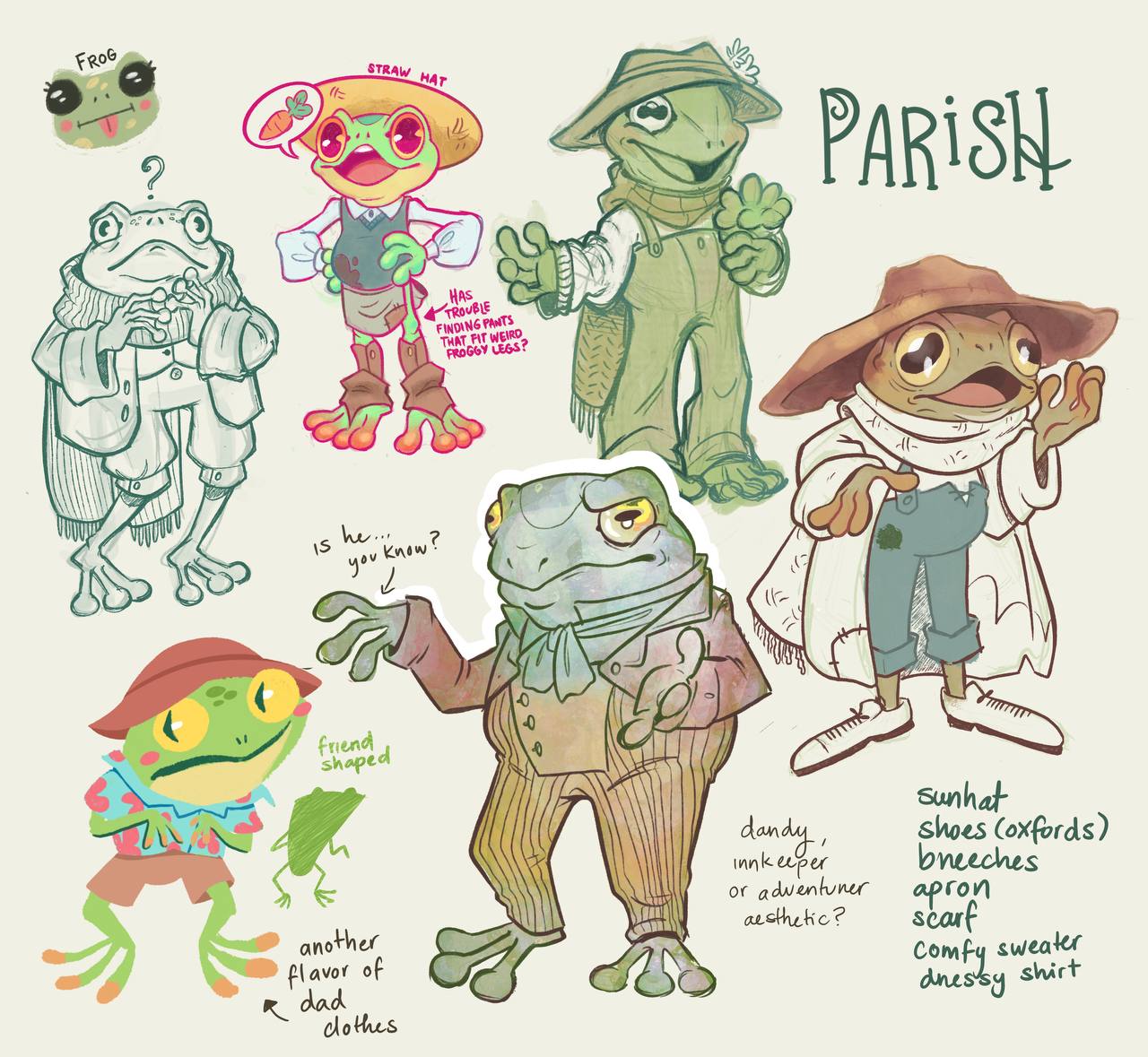 After a Chapter (which takes 1-2 hours to play) we can take all the leftovers and use them to unlock new Chapters and Guests, make choices about character Journeys, and renovate the Bed & Breakfast with new rooms and treats. This progress lasts even if the players at the table change, so don't worry about whether you can get everyone to the table every session — stickers and legacy-inspired character sheets mean each Chapter played will influence your copy of the game. Players can even swap between characters from Chapter to Chapter, giving everyone a chance to get attached to the Residents and make choices on their behalf. Over
This new crowdfunding campaign is coming right on the heels of Possum Creek Games' previous largescale venture Wanderhome, a pastoral fantasy tabletop role-playing game about traveling animal-folk in the beautiful post-war world of the Haeth. Wanderhome was Kickstarted in August 2020 for over $300,000 (a record-breaking number for games of its size and theme) and was published in August 2021 to critical acclaim. Now Possum Creek Games is back with a new colorful adventure with a team of incredible writers and artists.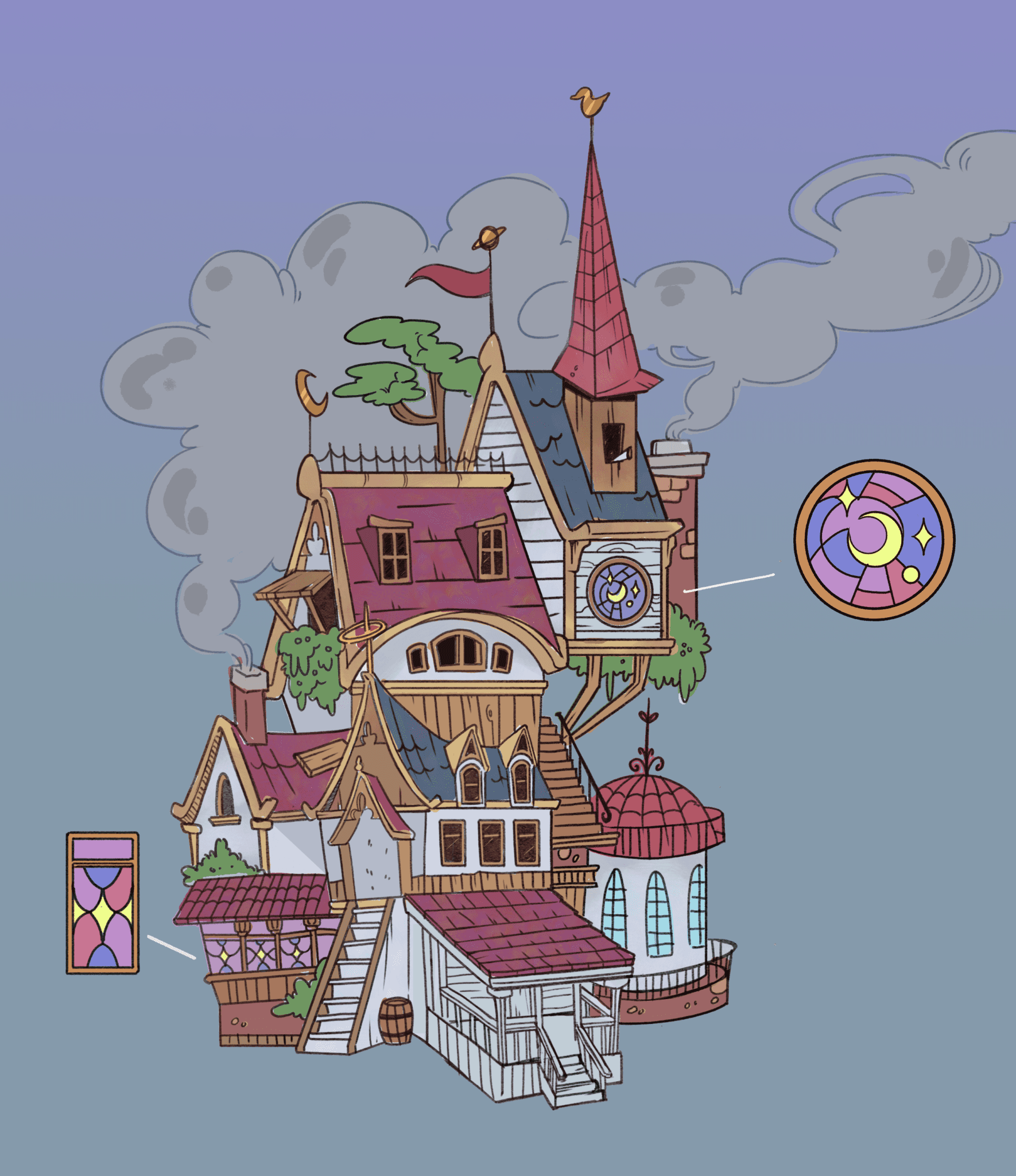 Possum Creek described Kickstarter's support of the blockchain (and the cryptocurrency and NFT's associated with it) as a "betrayal" of the Indie Scene, and cited Kickstarter's further labor issues as more reason they left the platform. IndieGogo, by contrast, has put work into supporting green technology, pushing creator initiatives, and taken an explicit stance against cryptocurrency in their community guidelines. Company co-founder and co-writer on Yazeba's Jay Dragon also posted a Twitter thread last night going into the details on their decision.
The full hardcover edition of Yazeba's Bed & Breakfast will be 500 full color 8.5" x 10" pages, with a gorgeous dustjacket featuring art by Katie Hicks and packed full of interior illustrations and prose. This hardcover book tells the full story of Yazeba's Bed & Breakfast, complete with 7 Residents, 48 Chapters, 50 Guests, shelves, journeys, secrets, and more. The hardcover is also accompanied by two envelopes — one that contains all the stickers needed for playing Yazeba's Bed & Breakfast, and the other a mysterious sealed envelope that one should only open under the most dire of circumstances. Finally, it includes a quickstart guide, a quick zine that lays out the basics as succinctly as possible, for a quick and easy entry into running Yazeba's Bed & Breakfast for others. Possum Creek has also announced a budget-friendly, black & white version as well as a luxury hardback version filled with coins, handouts, and other accessories for play.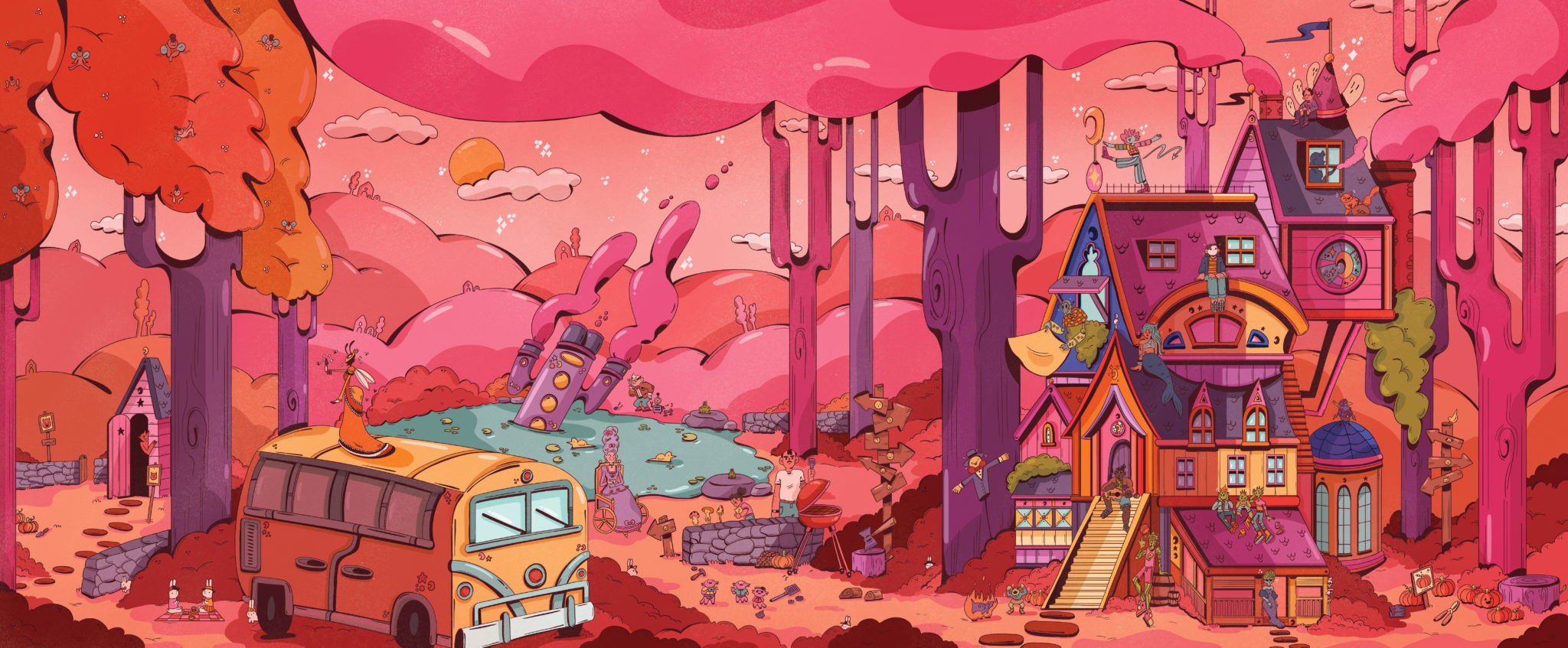 Yazeba's Bed & Breakfast
Written by Mercedes Acosta, Jay Dragon, Lillie Harris, M Veselak
Design Consultation by Avery Alder
Edited by Dominique Dickey, LD Lewis, Kazumi Chin
Art Direction by Ruby Lavin
Concept Art by Aster Santiago
Cover Art by Katie Hicks
Interior Art by Alxndra Cook, Shannon Kao, Val Wise, (more people to be announced!)
You can sign up for the mailing list to keep up with Yazeba's and be alerted when it launches on March 22nd.
Images via Possum Creek Games
Have strong thoughts about this piece you need to share? Or maybe there's something else on your mind you're wanting to talk about with fellow Fandomentals? Head on over to our Community server to join in the conversation!