Publisher Ulisses Spiele and developer Owned by Gravity have announced a new game set in the world of the hit German TTRPG The Dark Eye. Forgotten Fables – Wolves on the Westwind, releasing on Steam and iOS May 2022, is a story-driven adventure inspired by nearly 40 years of lore and storytelling. Wolves on the Westwind is the being presented as an entry point for players to discover the world of The Dark Eye. The game will launch on Steam for 17.99€/$19.99.
The Dark Eye (Das Schwarze Auge) is the most successful tabletop game in Germany, with a history dating back to 1984. Now in its fifth edition, the game is beloved for its deep plot and meticulous attention to detail (each region has received a hefty sourcebook detailing everything from how they fight to how they eat). Outside of the many, many tabletop releases, The Dark Eye has been adapted to board games, card games, novels, and over twenty previous games including the classic Realms of Arkania series.
In Wolves on the Westwind, an old threat is reawakening that seeks to devastate Thorwal, the windswept Northern region of the medieval-inspired Aventuria. As an unwitting hero you are thrown into the midst of this conflict and forced to forge into the frigid unknown, vanquish evil, and restore peace across the countryside. Play as the grizzled veteran warrior Alrik or the young wizard Nedime, each with their own unique skills and backstories, that feature a dark truth you will need to face. Travel across the realm on board the Keenwolf, a Thorwalian raiders' ship, forge alliances or make enemies of the unusual crew, and meet unique characters along the way. Every choice brings you that much closer to victory…or a devastating defeat.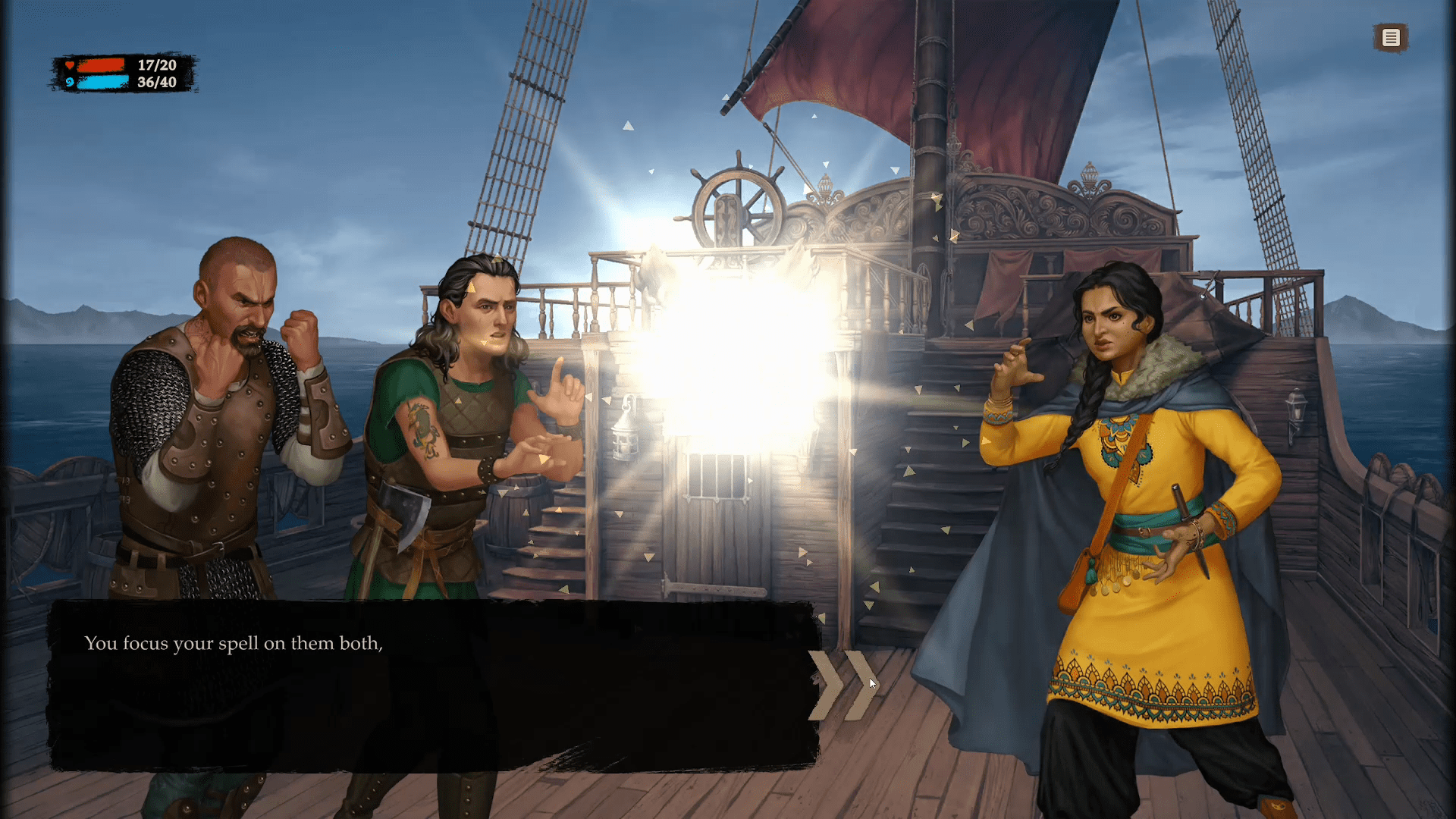 Choices are at the heart of Wolves on the Westwind. Each decision can lead our heroes down a different path, unlocking new characters, branching storylines, and multiple endings.With over 15 hours of content, Wolves on the Westwind offers players a well of thrilling options to explore again and again. Players can feel like part of the action with the game's RPG elements, which include stats like health and mana, as well as the ability to cast spells and perform maneuvers. Choose your time to strike carefully, as you may need your strength for a greater foe down the line. 
Ready to set off into the lands of Aventuria? Wolves on the Westwind will be available on Steam and iOS in May. You can find updates on Steam or the game's official website.
Features
Choose Your Own Adventure tale featuring 2 main characters to pick from and over 30 characters and scenes
Set in Aventuria, the award-winning world of The Dark Eye RPG with 40 years of development history
Replayable, branching storyline with several alternate endings and side quests depending on the player's decisions
15 hours of content divided into several different narrative chapters
An RPG-light layer with spells and maneuvers, mana and stamina
Beautiful soundtrack and artwork evoking an epic medieval fantasy world
Images via Ulisses Spiele
Have strong thoughts about this piece you need to share? Or maybe there's something else on your mind you're wanting to talk about with fellow Fandomentals? Head on over to our Community server to join in the conversation!