SJW Murder of Star Wars Continues With Keri Russell Interest
Fellas, there's just too many women in space. Asian women, brunette women, middle-aged women, purple-haired women, little orange grandmas. Back in the good old days of sci-fi, you knew where you stood. Men were real men, women were real props, and little furry creatures from Endor were little furry creatures from Endor. But that's all changed now. There's no room for the white men anymore. And despite the very serious and not at all childish outrage over Rian Johnson's The Last Jedi, the monsters at Lucasfilm have decided to add yet another woman to Star Wars, robbing bread from the mouth of the underprivileged white, cis male and making our space wizard laser battles too unrealistic to watch. According to Variety, JJ Abrams has ruined his sterling reputation as a hero of the resistance by eyeing Keri Russell for a new role in the upcoming Episode IX.
Russell, who has previously ruined films like Dawn of the Planet of the Apes with her gender, was on a list of actresses wrongly considered for the role. Eventually, the "executives" at Lucasfilm decided to begin talks with Russell just before July 4th after several meetings with their prospective actresses. The role is reportedly "action heavy," something women can't do even though Russell has tried her best to do "stunts" in shows like The Americans (where she won an Emmy, probably for being super hot or something), and the aforementioned Dawn of the Planet of the Apes. Russell has previously worked with Abrams, who is writing and directing Episode IX, on Mission Impossible III, where she filled a woman's natural role as damsel to be rescued by strapping white hero Tom Cruise.
While they're still in early talks with Russell for the role, her experience with Abrams and the attractiveness of a role in Star Wars means there's a very good chance she'll take the part. Abrams will have to cast two more roles for the film as well, roles which will hopefully make the cast more realistic by adding more white men. Abrams, of course, took over from creative genius Colin Trevorrow after "creative differences" with the fools running Lucasfilm caused a split. Production begins on Star Wars: Episode IX later this month and will release May of next year.
I have my ticket pre-ordered. That'll show 'em.
---
Image courtesy of Walt Disney
Disney Unveils First Look at 'Toy Story 4'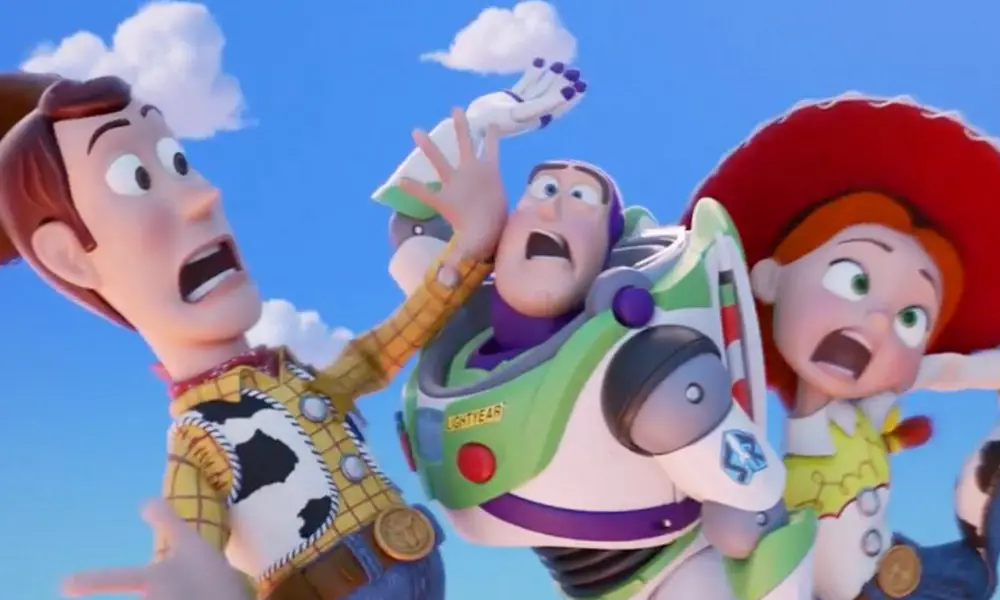 It's the franchise that started it all for Pixar, and now with a fourth installment set to drop in theatres next summer, Disney has treated Toy Story enthusiasts to a small look at what some of our favorite characters are up to.
Up to meaning dancing hand in hand in a circle formation to Judy Collins' seminal hit "Both Sides" now. They look happy, considering the song is far more introspective than most of the scene showcasing the toy family shows. Granted, there's always a catch, and that comes in the form of a kid-crafted spork utensil turned into a toy, and having a serious case of the wiggins about its identity and hysterically screaming it's not a toy before running away and causing a circular collision of all the other toys. I'd say there's an opportunity there for some identity symbolism to be explored in the movie, but that's probably expecting a tad too much.
Still, it's nice to see the friends many of us have literally grown up with for over two decades. Tom Hanks and Tim Allen are both back as Woody and Buzz, and they're joined by regulars like Joan Cusack and Jeff Garlin. Bonnie Hunt, Laurie Metcalf, Annie Potts, and Patricia Arquette also lend their voices to the film.
Toy Story 4 premieres in theatres on June 21, 2019.
---
Image courtesy of Walt Disney Studios
When Does Hiatus Kill a Fandom?
As I sit down to write this, Steven Universe is on day 111 since the last time a new episode released. That puts it squarely in third place among Steven Universe hiatuses, with a near certainty that it will tack on the couple weeks necessary to move into second place. To make things even more frustrating, the most recent episode, "Legs From Here to Homeworld," has still yet to air on TV. Tack on another 14 days since "Reunited" aired, and it has been 125 days since Cartoon Network has shown a new episode of Steven Universe.
A look at the various hiatuses quickly reveals a more disheartening trend: the abandonment of anything resembling a regular schedule for the show. Since the massive Steven Nuke airing almost all of season 3 over the course of one month, new episodes have been reduced to irregular, unpredictable spurts of 1-5 episodes that come and go far too soon. They're usually grouped together in clear story arcs, but not always. In a couple examples, one or two episodes would come and go with no idea when the next was to arrive. We have no idea when these episodes will air and usually receive little warning before they do.
Any fan of this wonderful show can tell you how common these hiatuses have become. We've grown used to the frustration of irregular airing schedules. We take our dose of content, watch it wear off quickly, and wait impatiently for more.
I've typically handled these hiatuses calmly. I lament the lack of a regular schedule as much as anyone. Steven Universe is one of the best shows currently airing and I always want more of it. Still, I tend to accept the hiatuses because I know they'll be worth it. When we do get new episodes, I lean more towards gratitude than frustration. The frustration is always there, but SU tends to always be good enough for me to place it on the backburner.
Except now I'm not so sure. I can't explain why this particular hiatus threatens to finally sever my patience with the show. However, I can't deny that it is. For the first time, I'm wondering if it's all worth it. The constant uncertainty has worn me down. I'll most definitely be there when the next batch of episodes air. After that? I truly cannot say for certain. I don't know if I want to bother with yet another long wait for another 1-5 episodes followed by yet another long wait.
Long waits are hard enough. Long waits filled with intense uncertainty about the future might just be too much. I don't know if I can invest any more energy on this show and this fandom if things don't change.
Uncertainty stands behind the real frustration with Steven Universe and any other property like it that stresses a fandom to the breaking point. After all, every show eventually has long waits between episodes. 8 months or more typically pass between seasons. Years pass between books in a series. A video game sequel will take 5 or more years these days, and you know that going in. So long as the prerequisite updates and trailers let us know the process continues, we accept the wait.
The problem with Steven Universe comes from knowing little to nothing. We don't know that the new season will start in 8 months. New episodes could release next week and we might only find out three days beforehand. We have no idea where the Crewniverse is in producing these episodes, no idea how many might be ready, and no idea when Cartoon Network will air them or why they currently won't. Sometimes a voice actor will mention recording for episodes far ahead of the most recent episode, or post a photo on Instagram or Twitter mentioning recording sessions with unexpected cast members. Or maybe a storyboarder will hint at their progress. That's all the hint we get.
I know it seems petty to talk about how this affects the fans. I mean, if we're so frustrated, I can't imagine how it feels for the people actually working on the show. They're the ones dealing with our constant questions sometimes crossing over into harassment. When's it going to be done? How far are you? When do we get new episodes? What's going on? I can't imagine what it's like to feel joy in creating a product, only to have the fans badger you and sap the joy from the process. Not to mention that they sometimes have no idea why the scheduling occurs like it does, or will be told one thing only for the higher-ups to do something else.
I'm not going to pretend this frustration doesn't exist, though. Uncertain hiatuses have an inevitable way of sapping the joy from us and leaving only bitterness. When you've analyzed everything about a new episode/season, gone back through previous seasons to do the same, created all the new memes you can and rehashed all the classics, what's left? All that remains is impatience breeding frustration breeding bitterness.
The Steven Universe fandom has a somewhat earned reputation as a crappy fandom. Online bullying incidents leave a sour taste, and the most controversial topics of the story often devolve into personal insults. You quickly learn what topics to avoid among the SU fandom. Every seeming misstep has a portion of fans flocking to dismiss the entire show, whether there was truly a misstep or not. Impatience leaves fans dismissing entire plotlines from the beginning rather than giving the Crewniverse any benefit of the doubt.
While there's an element of the toxicity that can't be written off as hiatus-related, there's no doubt the hiatuses make things worse. My worst experiences within the Steven Universe fandom came during the 164-day hiatus between "Lars' Head" and "Dewey Wins" that took up much of 2017. Between the length of the wait and debates over season 4, the fandom was at its worst and this carried into season 5's eventual return at the end of the year.
This hiatus was the closest I ever came to quitting the fandom. The anger and vitriol was unrelenting and made me wonder why I bothered. Why subject myself to interacting with these fans if I get so little pleasure out of it? Why go to online communities excited to talk about this show we love if it never feels like we actually love it?
And now, finally, after only 2 seasons in the past 3 years, an unknown wait for the last episode of season 5 still ongoing, and the very likely possibility that we'll get yet another hiatus once this last season 5 episode airs, the question finally entered my mind. At what point do these hiatuses ruin my investment in Steven Universe? At what point do fans of all ages just stop caring?
Once again, impatience enters the picture here through my experience with the fandom. When "Dewey Wins" ended that 164-day hiatus in 2017, a lot of SU fans hated it. A lot of SU fans hated the entire Steven Bomb. We enjoyed it here, as we always do. However, these episodes were the long-awaited follow-up to a story arc involving the main antagonists of the series. Fans wanted immediate follow-up after such a long wait. When instead we got a (very effective) focus on Steven's friends and family in the aftermath of the danger he faced, it upset people.
This happens a lot now with Steven Universe. All these hiatuses break up the story in a way that kills story flow for a lot of people. It creates even more bitterness when you wait so long for new episodes, only to not have those new episodes focus where you wanted them to.
The Crewniverse is faultless here; they don't order these episodes based on release schedules they can't predict. They don't know that 4 months will pass between the penultimate episode of a season and the finale. When you go back and watch these episodes without the breaks, they flow naturally. All the frustration and complaints about the uneven story don't apply like you thought they did when they first aired. The episode orders make much more sense. It's no longer a 6-month wait to find out what happened to Lars. It's one hour of other episodes you enjoy.
Unfortunately, binge-watching doesn't work in the moment for anything except shows no longer airing and Netflix. When fans only get 3 hours of content a year, have to wait months in between said content, and don't feel like the wait is worth it, it encourages us to stop caring until we know something big happened. Until then, why bother watching? This isn't like other shows that air episodes for 3-4 months and then vanish for a year. Those shows give you 5, 10, 15 hours of content at least. And you know when they'll come back. There is a consistency.
The problem with waiting comes if the network sees failing interest in Steven Universe because we wait for big moments. Right now, SU seems to be in a pretty good place. It has a movie, a guaranteed new season, and a nice PR push coming out of San Diego Comic Con this year. Back when it happened, it felt like the show was at one of its strongest points. The momentum was greater than we'd seen in a long time.
Then it came to a screeching halt.
I suppose most of my complaints might only exist for geeky adults like me, and not the children Steven Universe exists for. Maybe they don't care about the breaks. However, that might ultimately be a problem. A kid may enjoy Steven Universe, but kids have short attention spans and plenty of other stuff to entertain them on Cartoon Network or Nickelodeon or the internet. How many kids are going to pay attention to the increasingly inconsistent schedule and be sure to watch new episodes of SU?
Let's be honest, it is that audience Cartoon Network ultimately and rightfully cares about, not me. That worries me even more as a geeky adult who thinks Steven Universe is one of the best shows currently airing and a strong contender for best animated show ever. I'm not going to insult kids or act like they can't follow the story because of the breaks. They are perfectly capable of doing so. Thing is, why would they? They have plenty of other options.
Of course, so do adults. With so many other shows to watch, including animated shows, at what point does the erratic scheduling make both kids and adults stop caring and just move on? When do we walk away and wait for the show to end, and then catch up afterwards? And what happens if we endanger Steven Universe in the process? Has the erratic scheduling already begun this process?
You're left with a question that leads to the old familiar question about what came first, the chicken or the egg. Why does Cartoon Network not only schedule SU this way, but also show so little in the way of reruns? Do they schedule this way because of falling interest, or did interest decline because of the scheduling? Thing is, while certainly not at a high point, the ratings for Steven Universe haven't exactly fallen off a cliff. It's still one of the most-watched and best-selling properties Cartoon Network owns.
So why in the world is it scheduled like this? Why are SU fans left in the dark? How long before a dearth of new content ultimately kills the fandom, as a dearth of content inevitably does for any fandom?
So here I am, for the first time, wondering if it is all worth it. I don't worry that the story will disappoint; the Crewniverse has never let me down here. What I wonder about is bothering with all the frustration involved in being an active fan of Steven Universe. For the first time, I wonder why I invest so much of my love for fiction in a fandom becoming increasingly unpleasant. I wonder whether I really want to pay so much attention to a show airing 2-3 hours of content a year.
Barring unexpectedly bad decisions with the story or characters, I will always love Steven Universe. It's likely that upon its return, all my reluctance to engage will vanish quicker than Garnet poofed Peridot. Then, of course, it will end. I'll be right back where I was, waiting months for, at best, 4 or 5 episodes. Now that the questions have begun, I doubt they'll go away.
So here I am, wondering at what point my answer to the question, "is it worth it?" will eventually shift from yes to no. Many others have already shifted. And I wonder how many more will, and how quickly others like me will follow, leaving one of the best shows I've ever seen alone in the vacuum of space: abandoned, cold, and inevitably doomed.
---
Images Courtesy of Cartoon Network
'The Grinch' Doesn't Skimp on Charm
The Grinch is a harmless, but charming, remake of the beloved television classic. The third attempt to tell a story that no one really thought needed to be retold. The original 1966 television special is so perfectly preserved in popular memory as being near perfection it bothers the brain as to why a remake is even necessary.
Thankfully, the latest version of The Grinch understands a very profound and delicate thing: how to tell a story for kids. Dr. Seuss stories succeed because they play with the boundless wonder of a child's imagination, while also trusting in the simple but potent faith each child possess. In other words, The Grinch doesn't try to reinvent the wheel so much as add some spokes.
The story is still the same as we remember it. The Grinch (voiced by Benedict Cumberbatch) lives atop the mountain overlooking Whoville. A giant green oval shaped creature with an expressive face he is as his name implies, not a happy being. Every year, around Christmas, the Whos down in Whoville begin their annual celebration of Christmas and it drives the Grinch mad because he was born with a heart two sizes too small. So he steals Christmas.
Like all characters, he eventually realizes the error of his ways; his heart grows three sizes, some say. Look, the original animated special was some twenty-six minutes with credits included. The Grinch is a scant eighty-six minutes, with credits. I mention this only to say, yes they added filling, but not necessarily padding. The directors Scott Mosier and Yarrow Cheney show a great faith in the Seuss original.
For instance, Cindy Lou Who (voiced by Cameron Seely) has a  story all her own. As some of you may know, Cindy Lou Who is the little girl who catches the Grinch in the act of stealing her Christmas tree. In this, her story is simple and in fact, adds to Cindy Lou Who's character and her relationship with the Grinch.
Cindy's mother, Donna Lou Who (voiced by Rashida Jones) is a single working mother of three. Cindy wants to get in touch with Santa so she can wish for some happiness for her Mother. Michael LeSieur and Tommy Swerdlow have hammered the script into such a shape that we understand Donna isn't unhappy. But Cindy sees her Mom struggling one morning and is sad she can't do anything to help. Swerdlow and LeSieur lay the groundwork in a clever roundabout way.
As Cindy is trying to deliver a letter to Santa she runs into the Grinch, who is in town shopping for food. Being the Grinch he yells at her and comes dangerously close to doing something one of the most unforgivable things one could imagine: tell Cindy that Santa isn't real. He doesn't tell her, but he does imply. So when Grinch is disguised as Santa and he meets little Cindy once more, well let's just say the Grinch was not the only person whose heart grew three times that day.
Mosier, Cheney, LeSieur, and Swerdlow allow The Grinch story as a whole to be visually expressive. From the Grinch's sparse, cold, and granite home to the warm embracing circular geography of Whoville, the universe of the Grinch looks and makes sense.  Well, sense enough. Blessed be the script never tries to overreach and explain logistical fallacies or complex municipal services. They simply allow Whoville and the Grinch to exist.
The animation by Illumination Studios is, far and away some of the best they've done. The studio's movies such as Sing, Despicable Me, and Smallfoot have all been nice to look at but The Grinch has texture and depth that the other movies were lacking. It's one thing to look good, but it's another to understand camera placement and cleverly figuring out comedic gags that don't feel forced.
Cumberbatch Grinch is impressive for its lack of vanity. You could argue that Cumberbatch has been working towards his role his entire career considering all his characters tend to be akin to either the Grinch or Oscar the Grouch. His voice work is so complete I had to remind myself who was doing the voice. Notice the timber of his voice as he realizes Fred, the reindeer, who he's captured to help pull his sleigh, has a family.
Keean Thompson has a small role as the jolliest Who in Whoville, Mr. Bricklebaum. Thompson walks a fine line between playing him as naive without mocking him or making him a fool. Thompson's Bricklebaum is a man so in love with life and Christmas that he can't understand how anybody could be so happy. His faith in people is such that he somehow believes the Grinch and he are the bestest of friends. A fact that the Grinch is as baffled by as we are.
Pharrell Williams takes place of Boris Karloff and Anthony Hopkins as the narrator. His laid back smooth voice anchors The Grinch. He handles the Seussian rhyming scheme with aplomb and even gives his own remix of the classic You're a Mean One, Mr. Grinch. A perfect fit, Williams narrates without treading on the words. Being a musician he treats the words as Seuss intended; music to the ears.
There's not a lot to say about The Grinch. It's a simple straightforward and charming children's movie which never panders. For being the third attempt at telling this story, it is remarkably free of any cynicism. The humor is both sly and broad and the emotions are genuine. After sitting through the cynical tripe of The Nutcracker and the Four Realms, The Grinch feels like a soothing balm. It's not Christmas yet, but at least with The Grinch, I didn't mind celebrating a little early.
---
Image courtesy of Universal Pictures