Netflix's Witcher Series Set for 8 Episodes, Potential 2020 Release
Netflix is looking to catch on the dark fantasy TV ride, and with The Witcher they picked one of the best potential properties around. News has tricked out courtesy of creator and showrunner Lauren S. Hissrich, who has been open and excited about the process via her Twitter account. Although not all fans agree with the brief character insights she gives.
Now her account has delivered the biggest news yet after a Netflix event in Rome. We have an episode count, a filming location, and a potential release target.
The first season of Hissrich's Witcher series will span 8 episodes, of which only the pilot has currently been scripted out. It will also film in eastern Europe and Hissrich hopes for a 2020 release, though she maintains that the process will maintain a focus on quality over speed. The remaining 7 episodes still need writing, and new writers continue to join the show.
The show will adapt author Andrzej Sapkowski's books (read them, they're a bit dated but still excellent). It's unclear whether this includes his short story collections, The Last Wish and Sword of Destiny. Hopefully, it does, because The Last Wish would make for really great television.
A lot of the success for this Witcher adaptation will depend on Hissrich, who has producer credits on Netflix's The Defenders and Daredevil while also writing for both. She produced for Power, Do No Harm, Parenthood, and Private Practice. Her tweets have given fans a lot of insight into the ongoing development of the show and the book's characters. I think she has a solid handle on everyone, and there's no denying her enthusiasm.
There's also no denying the potential of The Witcher on television. Sapkowski's books and short stories are highly political tales with strong characters and a fascinating setting. They have their share of problematic content that hasn't aged well, but with a woman showrunner, Sapkowski's involvement, and years to reflect, hopefully, some of that can be updated for modern sensibilities. If so, we could get a truly unique and excellent fantasy show.
Here's hoping for the best.
---
Image courtesy of CD Projekt Red
The Trailer for Luke Cage's 2nd Season Introduces New Circumstances and a New Threat
Let's hope this guy ends up better than Diamondback did. At least he looks like an actual physical threat to Luke Cage, rather than a lame dude in a goofy suit.
The second season of Luke Cage finds the titular hero returned to Harlem after clearing his name. As you'd expect of a bulletproof black man as handsome as Mike Colter, he finds some serious fame in the area. Then at some point, he gets beat down by a new villain; another bulletproof black man with some nice fighting moves named Bushmaster. From there you can assume Luke spends the rest of the season trying to stop his new nemesis. Misty and Claire will be there to help him (or have Luke help them if you ask Misty), while previous villains like Mariah also work to make their lives miserable.
Misty's new arm should help things along. Look at it! It's beautiful.
I do have to wonder at the decision to make the villain a tougher, better mirror of Luke himself. I know it's a staple of comic books and therefore comic book shows, but maybe that's the issue. I've seen this too many times. I hoped for a more cerebral threat that would require something more from Luke than throwing hands a little better than he was the first time around. We may still get that. Mariah's still running around, after all.
Whatever the case, I hope showrunner Cheo Coker finds a balance between the extremes of the first season's two halves.
Season 2 of Luke Cage hits Netflix on June 22. A potentially good sign; it's only eight episodes. About time. Marvel's Netflix shows just can't pace properly over 13 episodes.
---
Image courtesy of Netflix
The Innocents Aims to Bring Strong YA to Netflix
The Innocents is the story of a teen girl named June, who runs away from home with her boyfriend Harry. The twist; June has superpowers and a hell of a lot of people seem to want her back. Forcefully if need be, and apparently it needs be. Starting with this revelation, the show looks to reveal a bunch more related to June's abilities and the plans people have for her. As if this wasn't enough, she also looks like she and Harry will struggle through young love at the same time that she struggles with her powers.
Sometimes those teenage years just freaking suck.
The nature of June's abilities evaded me throughout this trailer. It seems she shifts into other bodies in one scene, but then in others, it looks like some sort of shapeshifting happens. The older couple from the beginning also say June is "like them," which means she isn't alone. It's not a stretch to say the scientist in the trailer, played by Guy Pearce, will reveal the extent of these abilities in his efforts to do whatever the hell he wants with June.
Needless to say, we tend to gravitate towards good YA content here at The Fandomentals. This trailer for The Innocents certainly piqued my interest, and had probably the most literal use of Pixies "Where is My Mind?" I've ever seen. We're rooting for it.
The Innocents will comprise of 8 episodes. They will all release on Netflix on August 24.
---
Images Courtesy of Netflix
So let's all come together and acknowledge that March Madness isn't just for basketball and that the end of the month has had television news come out at an astounding rate. Good? Great. To that end, we've helpfully listed some announcements that you might have missed.
Premieres
Westworld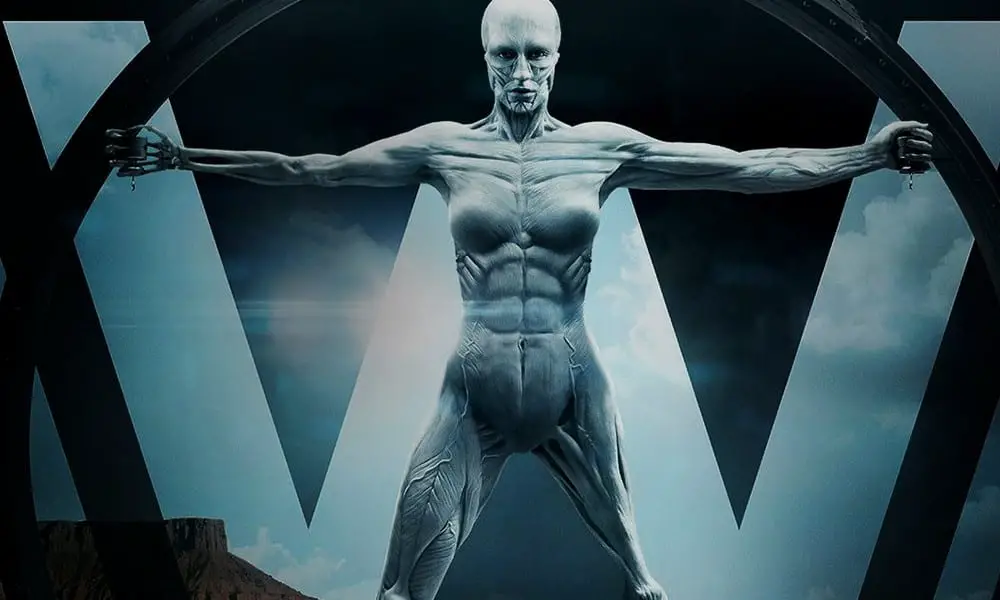 For those of you who can wait for a dark and gritty western sci-fi show, Westworld finally returns next month! Everyone's favorite replicant series premieres on April 22, and you can bet there will be more surprises in store. We covered the last season here on the Fandomentals if you want to refresh yourself, and don't forget to check out Kylie's thoughts on Westworld and grimdark.
Many fan-favorite characters are slated to return, and the hype train has fully left the promotional station. No, seriously, go google the show, you can't take a step in any direction without running into a think piece or a "five things Westworld needs to answer for season two!". I'm not going to do that to you here, we're just the friendly newspersons dropping return dates like it's our job, oh wait, it is.
Into the Badlands
The season three trailer dropped over the weekend at WonderCon, and if you missed it, you can view it directly at the beginning of the article. As the fourth highest ranked show on cable television last year, AMC not only renewed the martial arts sci-fi for a third season, it expanded its episode order.  So what do we have to look forward to? Well, if you watch carefully you'll see that Tommen Lannister has left his kingly confines of Westeros to take a level up in badass. Dean-Charles Chapman plays Castor, and in the photo below is joined by fellow new cast members Babou Ceesay (Guerilla) and Ella-Rae Smith (Clique).
Season three also sees the addition of Lewis Tan (should have been Iron Fist) and the return of the Nathaniel Moon character played by Sherman Augustus. The biggest news, however, is that Lorraine Toussaint (Orange is the New Black) joins season three.  Look, I will stan for that woman with my dying breath. There are just some actors you follow and consume everything they do because of who they are, and Toussaint is that person for me, end of story.
For Tildessa (Tilda x Odessa) shippers, fear not (at least for now) as both characters are confirmed to be back for at least part of season three.  If you're still sad about Veil's death, well, we can't bring her back, but here's a tip. Keep your eye on the CW, as Madeleine Mantock was recently cast as the eldest sister in their Charmed reboot. If that goes to series, you'll at least get to watch Mantock on the regular again!
Interestingly, AMC has decided to premiere this show against Westworld, as it also drops on April 22. Happy decision making! (Pssst, the choice is the Lorraine Toussaint show…)
Renewals
Queer Eye
So it's not exactly genre fiction, but if you're wanting a feel-good show to binge and help restore your faith in humanity, Queer Eye is perfect weekend viewing. This week, we got the good news that not only have the new Fab Five been renewed for a second season, but that we might see the second season before the end of the year is out! Fingers crossed we get a quick update on how the guys are doing from season one.
One Day at a Time
That mini explosion you heard earlier this week was likely from the news that Netflix renewed One Day at a Time (OdaaT) for a third season. A favorite among Fandomentals, we've been anxiously awaiting news for a season three ever since the second season dropped in February. Sure it's only been about a month to wait, but that's a long time when it comes to a favorite show! If you want another feel-good show to binge, ODaaT is also a great option, just also be prepared to do a lot of crying. Have the tissues ready for this one, it's a rollercoaster!
---
Images courtesy of Netflix, AMC, and HBO