Today, board game studio The op announced a new addition to their Rising line of licensed board games (previous editions include Thanos Rising, Plankton Rising, and The Batman Who Laughs Rising) based on the popular Avatar The Last Airbender series: Avatar: The Last Airbender Fire Nation Rising. Set during the timeline of the original series, the game will have players collect heroes as they battle against Fire Lord Ozai.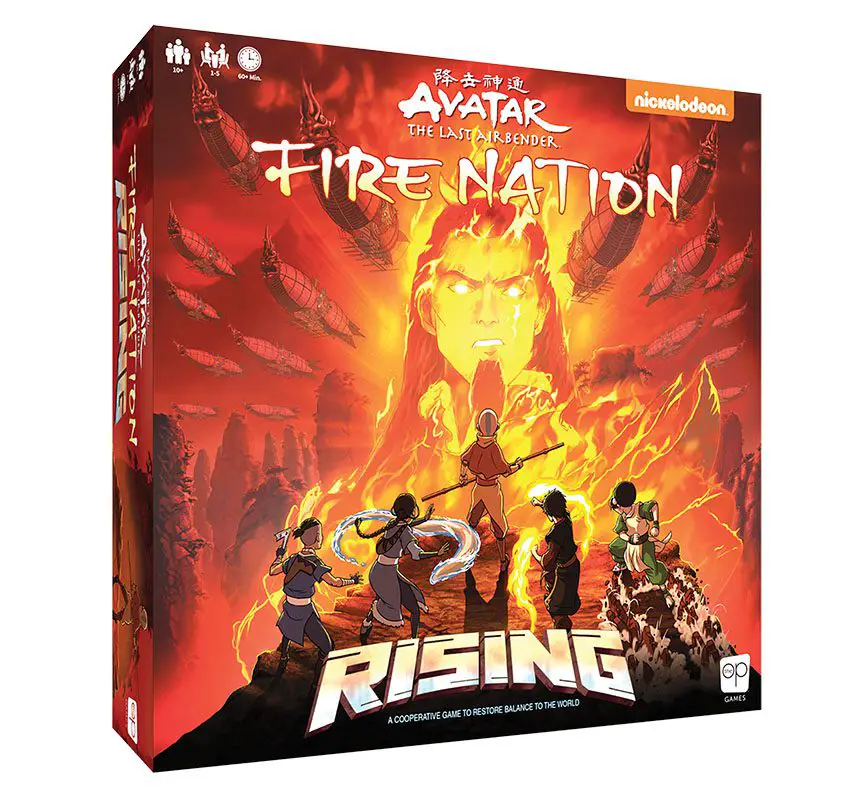 The Hundred Year War is still raging and firebending master, Lord Ozai, is attempting to conquer the other nations and become the supreme ruler. But the Day of Black Sun quickly approaches and players must take advantage of this celestial event, working together in this cooperative board game to stop Lord Ozai from achieving his goal.
"It's not magic" that's needed to end The Hundred Year War, but the ability to work together to stop Lord Ozai and The Fire Nation's takeover. In Fire Nation Rising, defeating the enemy takes places as two phases: Recruit new Heroes and fight Villains in preparation for The Day of Black Sun, then claim victory in three Final Battles after the eclipse to restore balance to the world!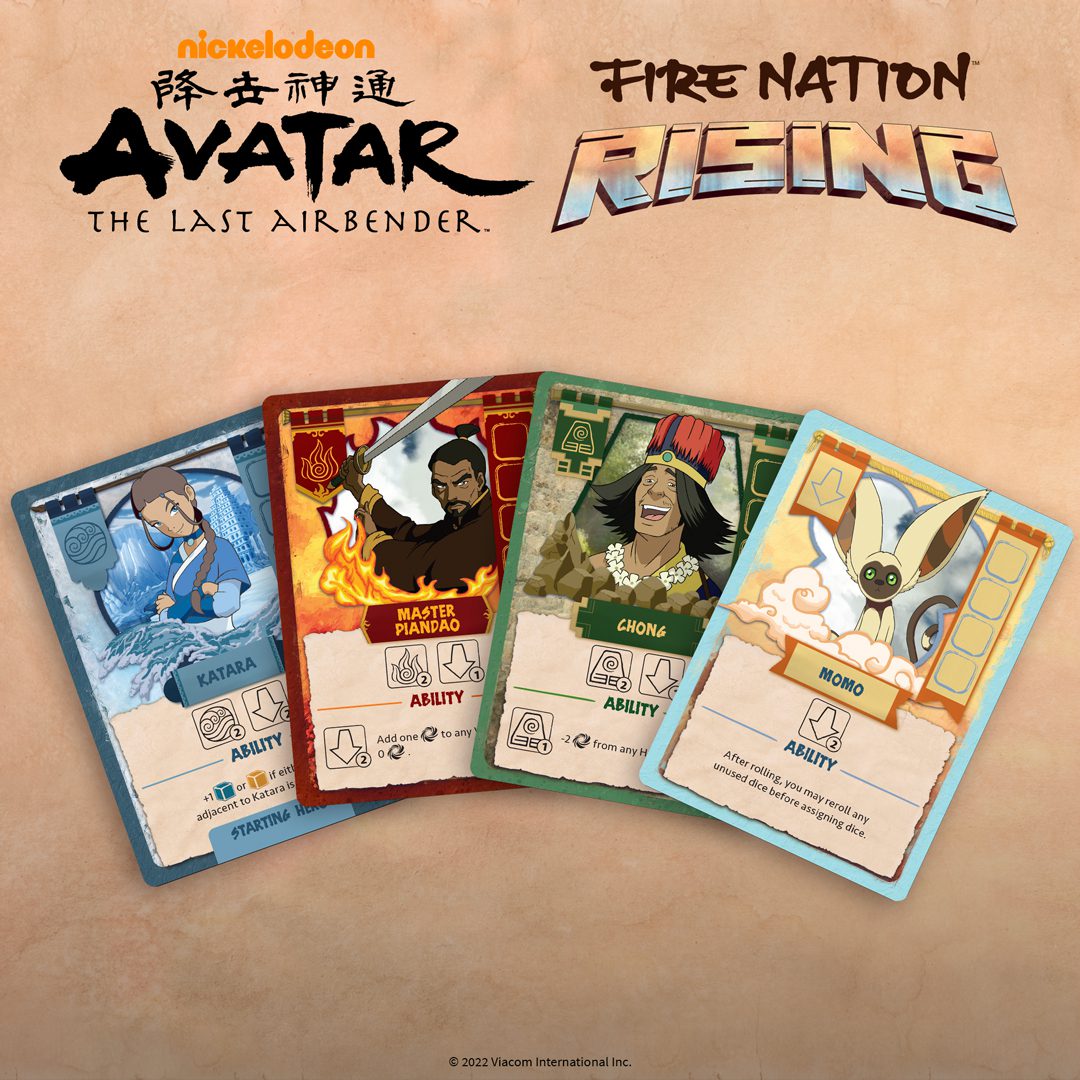 You and your friends will fight as up to five Teams led by starting Heroes Aang, Katara, Sokka, Toph, and Zuko, each with their own dice pools and special abilities. Standing defiantly in the center of a Map board is a custom sculpted figure of Fire Nation leader Lord Ozai, who will deal damage with every turn based on Fire Nation cards that dictate his direction and Ruin spaces.
Recruit new Heroes such as animal friends Momo and Appa, or former Avatars Roku and Kyoshi to strengthen your progress on the eclipse track, which marks the arrival of The Day of Black Sun. The Balance side poses objectives that players must complete to advance their preparation for the celestial event, which will ultimately impact their success with the Final Battles. The Ruin side negates Balance as the Fire Nation attacks, and Villains including Azula, Ty Lee, or Long Feng can further harm the Heroes unless they're taken out! If 10 or more Heroes are defeated, or if any one player loses all their Heroes, Fire Nation wins.
The game is set to include:
15 Fire Nation Cards
16 Hero Dice
1 Lord Ozai Sculpt
1 Map Board
1 Ruin Track Card
5 Balance Track Cards
2 Balance and Ruin Track Markers
5 Team Tokens
5 Team Cards
30 Pai Sho Tokens
3 Final Battle Cards
60 Damage Counters
53 Character Cards
Rules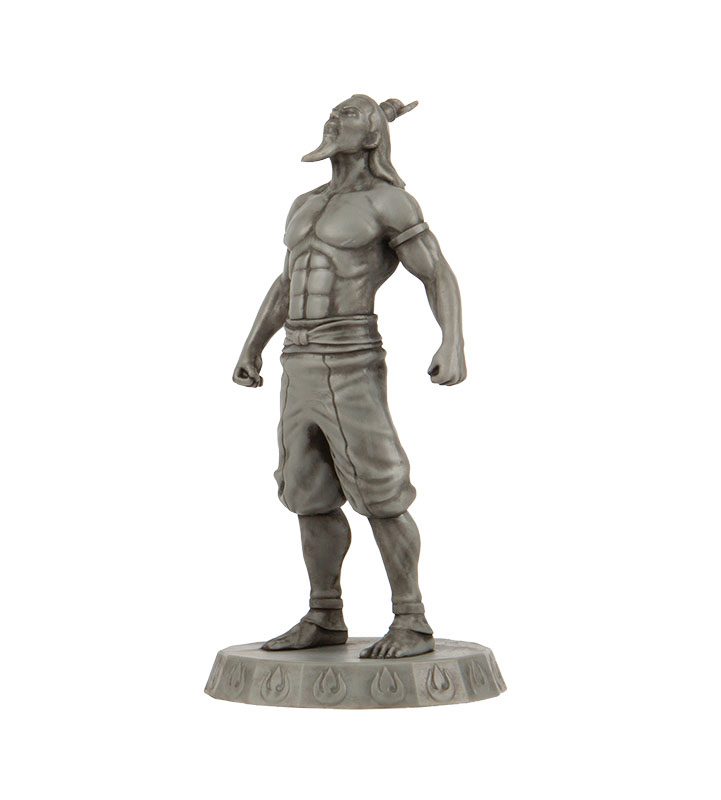 The game, which will retail for $49.99, is set for release this August.
Images via The op
Have strong thoughts about this piece you need to share? Or maybe there's something else on your mind you're wanting to talk about with fellow Fandomentals? Head on over to our Community server to join in the conversation!